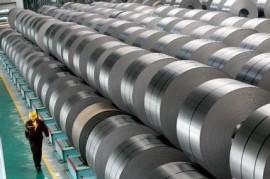 In recent years, the economic slowdown, excess capacity under the obvious contradiction between supply and demand, this is the root cause of the decline in steel prices, but since this year, a significant decline in steel demand, steel demand fell by more than 5% a year, increased steel prices downward pressure.
In the first half of 2015, the main business of iron and steel industry losses, losses has amounted to 21.68 billion yuan. Corporation and the state-owned enterprises because of depreciation and three different fee, hot-rolled coil, low-cost private enterprise loss of more than 200 yuan/ton, the high cost of losses of state-owned enterprises more than 300 yuan/ton to 400 yuan/ton, the building materials enterprises in different regional difference is larger, losses from a few yuan to two hundred yuan per ton. Some steel mills have reached the marginal loss, was forced to cut pressure is more and more heavy.
Steel prices fell more than stay in the level of supply and demand, and market competition, inventory, market mentality, funds, futures and stocks, such as multiple factors, which influence each other, under the background of economic and industrial dual cooling, bearish alternate, constitutes the logic of steel price is declining. But at present, this kind of logic is gradually from the original is given priority to with excess capacity to demand drag on the composition of the heavier price.
Because of the "golden nine silver ten" has faded, the next had winter will be lighter, the downstream procurement from the rhythm, or quantity, are compressed inventory as far as possible, improve the efficiency of resource circulation and capital utilization. The most obvious is inventory pressure gradually from downstream conduction upward, making steel inventory increase, increases the pressure steel sales. From the point of relationship between steel price changes, due to falling demand faster than supply, lead to the holiday market inventory increase slowly. More importantly, an economic slowdown, the real estate and manufacturing contraction cycle is far from over, so that the steel demand from the peak to fall the trend of open, demand down under the pressure, steel mills will make adjustments in the supply, if supply and demand continued to imbalances, steel prices will face the risk of continued to slide. However, in September the national crude steel output of 61.7717 million tons, average daily output of 2.0591 million tons, 47100 tons of yoy, up 2.34%. Crude steel output grow, go against the stability operation of the market price.
Related posts