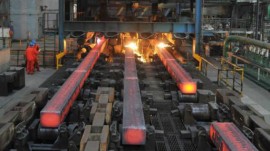 India's biggest integrated iron and steel enterprises are planning in this fiscal year (as of the end of March 2016) improve the finished steel production, however consultancy located in mumbai India a rating agency, has issued a report warned that there were no significant growth in India's domestic steel demand, under the prospect of an annual increase of 12 million – 14 million tons of crude steel production capacity, will only make the Indian steel industry capacity utilization.
Indian steel minister NarendraSinghTomar has once again stressed the government plans to 2025 crude steel production capacity will increase to 300 million tons of them, and this fiscal year, is expected to produce 88 million tons of crude steel. Indian steel minister in India as early as next year is expected to overtake Japan as the world's second largest steel producer, currently has more than the United States jumped to third place. However, according to Indian rating estimates in fiscal year 2014 Indian steel industry capacity utilization to 81%, significantly lower than the 88% in fiscal 2009.
Published in the first half year September (4 -) production and business operation performance, India's biggest steelmaker said next year for capacity expansion. Beijing, steel and energy companies, according to the direct reduced iron factory in eastern India's orissa state after the completion of the upgrade, the company plans to finished steel production capacity increased by 50%, to 5 million tons. In early November, the state-owned steel authority of India announced that it is located in the eastern chhattisgarh than lai steel factory (Bhilai) a 4060 cubic meters of blast furnace in production this year. Private southwest of Beijing, the iron and steel company goal is in this fiscal year will crude steel production increased 6.3% to 13.4 million tons. Also in the expansion of production capacity, the company plans to steelmaking capacity from the current 14 million tons to 18 million tons.
Related posts