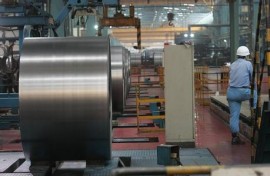 Japanese steel union (JISF), the latest figures show in November 2015, Japan's steel exports of 3.237 million tons, down 1.8% year-on-year, fell for four months, down 5.6% month-on-month. The ordinary steel exports of 2.17 million tons, down 4.4% month-on-month, an increase of 1.9%.
According to the export region, Japan to South Korea's exports of 545000 tons, down 14.9% year-on-year, on Thai exports of 397000 tons, down 0.8%; For China's exports of 413000 tons, down 0.4%; For China's exports of 175000 tons, down 43.6%; 203000 tons, exports to the United States fell 3%.
Japanese steel imports in November of 361000 tons, an increase of 3.3%. Among them, from South Korea imported 211000 tons, down 4.5%; Imports from China Taiwan, 101000 tons, 22.2%; 46000 tons, imports from China increased by 9.4%.
Related posts