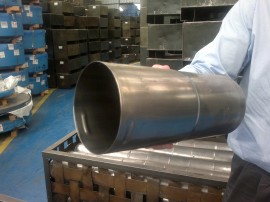 Recently, further subdivided SINOLIGHT technology center deep drawing with manufacture products market, refined car filter special steel category, specially developed filter press with steel DC04 – LQQ, delivered the user.
Filter with large amount of steel stamping deformation and the characteristics of stamping process of large amount of material thinning, the formability of steel and demanding big grain inclusion content. In order to guarantee the quality of our products and technology center on the basis of DC04 production technology, using high titanium composition design, completely fixed carbon, nitrogen, interstitial in steel, improve the material r value. SINOLIGHT used in smelting, steel slag modification process, pure RH degassing process, molten steel static process, etc. At present, the successful production of 90 tons, foreign managers will closely track usage.
The auto filter mainly divided into two categories, oil filter and air filter, its periphery consists of thin shell, generally by a punch forming deep drawing of sheet material, dark barrel.
Related posts