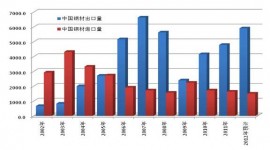 The iron ore spot prices have since the beginning of 2013's $160 a tonne fell to $75, today is 53.12% reduction.
And continued to decline in prices at the same time, the iron ore production remains high. Rio tinto iron ore output in the third quarter of 60.45 million tons, a record quarterly. And CVRD iron ore output reached 85.73 million tons in the third quarter, the same period also hit a record high.
The personage inside course of study says, if continued expansion, will fall into a vicious circle. But analysts at citigroup wrote in a research note, the bank will now think that the price of iron ore in the first quarter of 2015 in the average price of $74 a tonne, until the third quarter of the average price will fall to $60 per ton.
Lange steel net, analysts said steel mills profit to achieve quality, raw material cost reduction is not enough, the order can increase is also a important factor, "iron and steel costs to even very low, no sales, also not profit." In zhang's view, is the fourth quarter has been steel off-season, on the premise of demand is difficult to rise, steel mills profit is still not optimistic, "gradually into the off-season, the downstream procurement will also be reduced. At the bottom of the steel prices close to wander, already a long time, do not rule out has anti twitch, but will not form the climate. The supply and demand contradiction still exists, a whole steel prices will remain under pressure."
Related posts