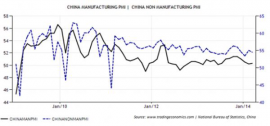 Although in the first three quarters of steel mills profit rebound, but the Chinese steel industry is still not out of the plight of downturn. Platts, according to the latest figures on November the Chinese steel mood just 25.61 points, down 12.5 points, compared with October. This has been in May 2013 the index to its lowest level since its launch, steel demand this year is expected to weaken further, export orders will also rapid decline.
Steel is expected to slump
Similar to the purchasing managers' index (PMI), platts steel sentiment index greater than 50 said China rise or expansion, less than 50 indicates falling or contract. November reflect Chinese steel sentiment index of new orders total only 25.61 points, the year-to-date average of 48.75 points.
In various data, new domestic orders and new export orders, steel production, steel stock indexes fell. It is worth noting that China's steel exports this year hit a record high, to a certain extent helped offset weak domestic demand, and hold the steel production at relatively high. In November index, however, the new export orders, expected in October from 70.96 straight down 38.33 points to 32.62 points in November. Year-to-date, the index's average of 50.73 points.
, platts steel and raw materials executive editor PaulBartholomew said: "speculation that China is considering to cancel some construction steel products export tax rebates, which greatly suppress the market sentiment, especially in the domestic real estate construction market is still very weak."
New export orders fell at the same time, new domestic orders index also fell. In November a new domestic orders index was 25.01 points, down 10.23 points, compared with October. Year to date the index averages of 48.58 points.
In addition, China's steel market participants crude steel production is expected in October and flat. Steel production index to 34.48 points in November, compared with last month fell by 0.51 points, is the lowest since November 2013.
In the parameters of the released platts, the only rise in November is already very weak steel price expectations index. The subentry index was 27.77 points, a rebound in October 1.04 points.
Consumption into the off-season
Platts personage points out, after entering the winter every year, China's steel outlook is usually weak, especially this year due to fear of the export market. This could mean that smaller steel mills will take more along with it to buy raw materials, the method of no longer added quarterly iron ore inventories.
As the weather turns cold, as well as their production measures, the influence of such factors as is on the decline in demand for iron ore. The China iron and steel association, according to data released on October import powder ore average price is $80.36 / ton, fell $1.91 / ton. In early November, direct import iron ore grade of 62% dry base powder ore cif $78.14 / ton. In late October, the national import iron ore port stocks of 107.18 million tons, year-on-year increase of 26.82 million tons, the growth of 33.37%, has nine consecutive months more than 100 million tons.
At present, the steel market prices have also remained weak. In late October steel composite index was 86.83 points, down 12.74 points from the end of last year. Baosteel, shougang, angang, wisco, such as steel mills have cut part of the product price, the leading steel mills tend to be more cautious about future expectations.
The personage inside course of study thinks, since November, northeast and north of the drop in demand, steel market will gradually enter the consumption off-season, the late steel demand is still not optimistic. Late in the case of steel prices remain low, iron ore prices to rebound, will still show downward trend of fluctuations.
Related posts