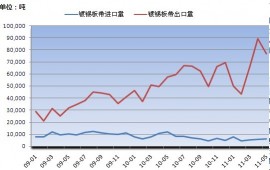 Entered since 2014, commodities across the board. Has "bargain" product of iron and steel industry, although recently usher in a wave of rebound, but the industry generally believe that steel prices bottomed out of sight.
Experts in the previous 2014 (5th) China commodity trading market development on the BBS said, "now the upstream downstream almost simultaneous fall, and it is no matter what industry in fall, it is very rare in recent years."
The day of the Chinese steel mills, however, is not so sad, the reason is that compared with the degree of steel fell, the raw materials of iron ore fall more fierce. China's largest steel industry research firm mysteel.com, a senior researcher at the research center of surging news, said Yang hua "this year, according to mysteel.com, the iron ore price dropped by 26% year-on-year, and steel fell by around 12%".
As the main raw material and steel prices fall away, Chinese steel mills have quietly realized profit of nearly 20 billion yuan.
According to industry data, the third quarter released cisa its key statistics of the iron and steel enterprise profit of 19.282 billion yuan, up 71.26% from a year earlier. The cumulative percentage of loss-incurring enterprises 25%, fell 6.82% year on year. The steel main business over 11 quarters of consecutive losses, a profit in the third quarter.
Performance is relatively angang steel that grabs an eye, in the first three quarters of this year net profit of 923 million yuan, up 20.65% from a year earlier. The third quarter net profit of 346 million yuan, up 449.21% from a year earlier. China's largest steelmaker baosteel shares in the first three quarters of it is earned 5 billion yuan, an increase of nearly 8%.
Power of Chinese steel mills profit, but also includes rapid advances in steel exports. A slowdown in demand in China at present, China's steel mills are adjust the weights of supply at home and abroad, stepping up efforts to promote products worldwide.
8, 11, according to customs data released the latest steel exports in October a record 8.55 million tons. After September just set the record high of 8.52 million tonnes and be refreshed again. The first 10 months of this year China accumulated exports of 73.89 million tons of steel, up 42.2% from a year earlier.
The increase of China's steel exports appears to be digest excess capacity in China. But, just taste export benefits Chinese steel mills, are facing more and more "international".
Related steel products trade friction increasing, shows that other competitors are growing anxiety. It is worth noting that China's trade friction before countries mainly for European and American developed countries, are now gradually shift to Asia, Africa, Latin America and other countries.
Another analyst at mysteel.com, in the southeast Asian market, Chinese manufacturers because of low cost and are sold at low prices of certain steel products, South Korea, its price is low 40-50 dollars/tons, is lower than Japan's $100 / ton.
According to bloomberg, kobe, Japan iron and steel company (kobesteel) (posco) with South Korea's posco company complained such as a flood of Chinese steel grab their share of the market. China's steel had piled up at ports in India and Africa, so that local producers have to to seek their own government intervention.
Although most of China's steel exports to southeast Asia countries, but through the global steel trade circulation and price chain reaction of European and American countries are also pay close attention to the effects of China's iron and steel.
Late last month, the United States to veto oriented electrical steel made in China "double reverse" duties, earlier this month, the United States and decided on chinese-made no oriented electrical steel "double reverse" tariffs.
Cisa secretary-general and deputy President, Mr Zhang said, "they said foreign words is very serious, we are at a low price dumping, if don't rectify market order, once a trade war, may bring damage to more good export steel, already difficult industry will be worse."
Related posts