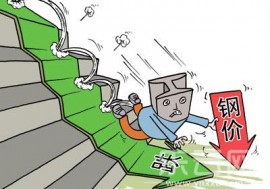 Summer in August, the domestic steel market has fallen into baizhang ice as deep, market atmosphere deserted, the price all the way down.
Data show that from July 31 to yesterday, the composite price index of domestic steel fell sharply from 3220 yuan / ton to 3,000 yuan / ton, MoM decline 6.52% year on year decline of 17.31%, is not only a single in May 2013 since the largest monthly decline, while steel prices also hit a nearly 10-year low since May 2004.
In addition to steel prices are now diving market, the latest steel industry PMI data also released yesterday. According to yesterday's United Steel Logistics Committee physical data released in August PMI was 48.4% iron and steel, down 0.2 percentage points from the previous month, the fourth consecutive month kept below 50% of the ups and downs of the line. Mainly due to new orders index increased contraction amplitude, finished goods inventory index is high.
The real estate industry into a negative factor correction
For round steel prices plummeted, analysts believe that the macroeconomic policy is expected to fall, due to industry fundamentals continued downward, and many other combination of factors. Where the real estate industry in terms of price and volume callback is one negative factor.
"Macroeconomic data released in July, as manufacturing index, industrial consumption, the amount of the credit scale and infrastructure investment are lower than expected, resulting in the latter part of the steel market demand for a comprehensive look empty." Analysts said.
Meanwhile, nearly two months on behalf of the downstream steel demand in the real estate industry both price and volume correction, while commercial banks significantly tightened credit steel trading business, "many negative factors, so that a large steel mills have cut in August steel factory price, market sentiment spread blank lines, steel diving situation. "analysts said.
In the matter United Steel Logistics Committee analysis, said steel prices have rebounded slightly in July, so steel mills to increase profit margins, production capacity utilization increased. But signs of weakening demand for steel remained, intensified market supply and demand, steel stocks continue to climb.
"High inventory, large steel mills may again reduce the ex-factory price, this year's Steel City 'Golden September' season prices would have difficulty reproducing." Analysts expect.
Iron ore prices hit a five-year low
By the downstream steel market downturn, slowing demand plus inventory backlog, so that domestic iron ore spot prices both appear futures slumped posture.
As of last week, reflecting ore prices Platts 62 percent iron ore index fell below 90 U.S. dollars / ton, Aug. single month fell nearly $ 10, the lowest since 2009 after.
Meanwhile, as of last Friday, the Dalian Commodity Exchange 1501 iron ore contract closed at 628 yuan / ton, the contract fell 600 yuan 1409 is below. This year, the spot iron ore prices have fallen more than 30 percent.
The industry view, iron ore prices slumped and continued high inventories, weak downstream demand related. "Iron ore is the raw material of steel, since this year the downstream steel market continued to slump, so that ore port stocks surge, prices continue to fall." Analysts said.
According to the China Iron and Steel Industry Association estimated that in the first half of this year, 52 million tons of iron ore supply exceeding demand. Increased supply leads to lower prices.
Related posts