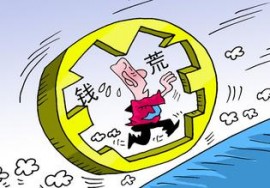 October 16, reporters from all over the United small metallurgical enterprises Chamber of Commerce (hereinafter referred to as metallurgical Chamber of Commerce) has learned, Shanxi Haixin Iron and Steel Group Co., Ltd. has entered a debt restructuring program, in addition to some private steel companies are also facing financial risk.
According to statistics metallurgy Chamber of Commerce to the end of August this year, 80 key private steel enterprises assets and liabilities was 63.5%, down 0.7 percentage points. Among them, the asset-liability ratio of 70% or less in the enterprise has 63; over 70 percent of enterprises have 17, which is 17 in three of over 80%, six more than 90%.
In the first half of this year, crude steel production in Hebei private steel companies fell 2.21 percent, pig iron output fell 1.67%, sales revenue fell 11.64 percent, a profit of 5.198 billion yuan. Especially small private enterprises discontinued closed Tangshan region are more than one-third of small mining companies closed discontinued.
In the first half, Shandong private steel enterprises steel crude steel production increased by less than state-owned enterprises, and profits, profit growth is greater than the state-owned steel companies, included in the statistics of 11 private enterprises without a loss. But mining companies have faced difficulties, according to the Shandong Linyi area thoroughly, and more than 70 small and medium sized mining enterprises currently only three still in production, others have been closed down or closed.
The first half of private enterprises in Henan crude steel, pig iron, steel production increased by 22.19%, 11.35%, 14.89% respectively. Among them, Henan Jiyuan Iron & Steel, Henan Feng Bao Steel, Special Steel Han Ye slight profit, other private steel enterprises basically no profit or loss. Enterprise funds strand breaks occur, although not the case, but the investigation of nine companies generally reflect the financial strain.
The first half of private enterprises in Shanxi pig iron, crude steel production was down, sales revenues and profits year on year decline. Among them, Yang Steel, Li Heng Steel, New Jinshan and other enterprises better, Hai Xin is debt restructuring, often flat steel, steel long letter, Aetna Steel, Daido Steel and other financial chain is very tight.
Related posts