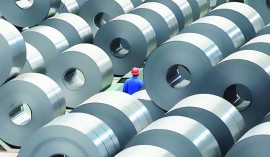 Recently the Ministry of Industry and Information Technology informed, to guide the healthy development of the steel industry, the Ministry of the year will do the revision of the steel industry policy. Industrial policy will clear the revised restructuring as the main line of development of the next decade, helping leading enterprises bigger and stronger through mergers and acquisitions.
Mirach Interpretation: the new steel industry policy will focus more on balancing enterprise development and social environment, environmental policy will be one of the heavy head, is mainly for industrial policy revision with new environmental laws; additional adjustment of industrial structure, the tinplate industry, industry upgrades and other issues are also the focus of the new policy. Another industry to optimize this adjustment should be based, not fundamental change.
Iron ore futures on October 18 last year (the "DCE") is listed for trading, supreme Saturday in just the first anniversary of the Dalian Commodity Exchange. With DCE iron ore futures trading volume and improve the participation of its guiding role for iron ore prices become more significant. A few cargo can affect the index, privately traded a whole will be able to determine the market price is gone.
Mirach Interpretation: From the current situation, mainly involved in trading of iron ore miners, steel and mining industry chain customers, with the enrichment and development of the iron ore market platforms, tools, and industrial enterprises and professional investment influx of bodies, participation in iron ore futures market will be more extensive, reflecting on the relationship between supply and demand is more sensitive spot market hedging more prominent role in market regulation of supply and demand even more powerful. Overall, the current global iron ore pit, abundant levels of OTC markets, after iron ore futures market, the gradual increase international influence and help China compete for iron ore pricing. Platts due to the limited sample collection, the development of post-DCE will be more widely promoted.
Related posts