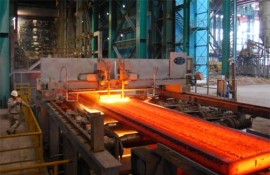 India JSW steel recently announced that in the next 10 years will cost $22 billion expansion, crude steel production capacity from the current 14.3 million to 2015 tons to 40 million tons, in order to maintain market share of 13% to 14%.
In accordance with the Indian government's vision plan, by 2025 crude steel production capacity will increase from the current 105 million tons to 105 million tons, the total investment should be about $200 billion. New Indian government strong political reform and increasing investment will bring India development opportunity, it was not long before India's economic growth is expected to be recovered to more than 5%, could reach 5.4% 5.9%, market sentiment is becoming a more optimistic. The new government's first budget is positive for iron and steel industry in general, steel demand in the future is a good boost. And a few years ago the government of India too tight fiscal policy, to the GDP growth is on the decline, shrinking demand for steel.
Mainly from India's future demand for steel in infrastructure projects, railway and highway construction projects, such as car manufacturing, and power projects, etc. Such as port construction, inland waterway, highway construction and the national and state the number of highway construction project has announced that it is a encouraging for long products demand. Flat material aspect, the government will have to buy cars and consumer durables consumption tax cuts extended until the end of December of this year, will help to pull the plate volume demand, at present, India automotive steel production accounted for only 9% of the crude steel production – 10%, while demand growth from 10% to 20% a year, is a market with enormous potential. The increase of gas pipeline mileage, defense industry, shipbuilding industry and the development of solar and wind power generating equipment is good for medium plate needs.
JSW steel company, the Indian steel administration (SAIL), tata steel in advance steadily expanding production. Tata steel, crude steel capacity planning for the future five years increased by 60%, to 16 million tons. In the past 107 years, tata steel in domestic has established 10 million tons of production capacity, crude steel production capacity in recent 10 years of growth over the past 100 years of growth greatly. However, long wait Odisha bond carlin Ghana and project is still influenced by the high cost of capital, labor disputes and land acquisition were delayed. Indian steel administration (SAIL) ongoing production capacity expansion and modernization probably by the end of the project is completed, annual production capacity will increase from the current 12.8 million tons to 21.4 million tons. Also plan on its than the lai steel plant and the parlour carat steel mills in the new plate capacity.
JSW in the Indian state of karnataka e yarra Galveston area of India's biggest new abrasion has been put into production. At present the company remains committed to in West Bengal and Jharkhand two green projects, but limited by the raw material license project funding is still not in place. Earlier this year, JSW bought for $460 million rupees Vallabh 50% stake in the Tinplate, recently paid about 11 billion rupees to buy Welspun Maxsteel. Despite the fiscal year 2012-14 sluggish domestic demand for steel, iron ore supply is limited and purchasing cost increases, but JSW profit margin rose to 17.8% from 19.4%, also increased to 13.2% market share.
Related posts