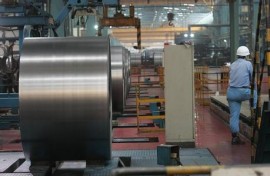 Malaysia steel production capacity is insufficient, mainly produce low-margin goods steel, in addition labor costs increase resulting in a decline in ma steel industry comprehensive competitive capability. As Malaysia push international trade freedom and justice, and the protection of the domestic steel industry to obtain less and less in Malaysia, in the face of an influx of cheap imports, low competitiveness of Malaysia's steel industry development is not optimistic.
In recent years, China's iron and steel enterprise is faced with the problem of excess production capacity, to reduce capacity domestic steel enterprises to further increase the intensity of steel exports, in order to alleviate the pressure of excess capacity.
With the growing infrastructure projects start and government spending, pull the Malaysian local demand for steel. Steel association, according to data released in Malaysia in 2014 Malaysia steel consumption is about 10.17 million tons, up 1.2% from a year earlier, the imported steel 7.73 million tons, rose 12% year-on-year, Chinese imports of steel products to 2.65 million tons, accounting for about 34.2% of the amount of imported steel.
China is a major country of Malaysia's exports of iron and steel, the output of the main products for direct export of steel, and exports products to lower-end steel primarily, the low-end steel local production of steel into direct competition with Malaysia countries, Malaysia local steel mills cannot contend with high quality, cheap products in China, the local market capacity decline, falling profits.
To protect the domestic iron and steel production, the Malaysian government to import steel from China and other countries products, such as anti-dumping measures. On April 28, 2015, Malaysia for cold rolled stainless steel plate and native to China/color/paint coating initiated an anti-dumping investigation against steel coil. Malaysia also decided that starting on July 2, 2015, for from 42 countries and regions such as China imports of hot rolled plate levy a tax on safeguard measures 3 years.
The Malaysian government through anti-dumping duties while raise the price of imported steel products, but because of the domestic steel industry can not control costs, product quality also cannot compete with foreign enterprises, to enhance the competitiveness of domestic steel industry.
Related posts