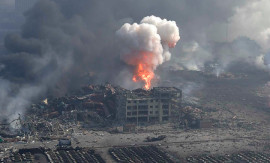 On 12 August 22 at 52, tianjin binhai new area and tianjin port 7 clamp door red sea international logistics company dangerous goods warehouse, container yard fires and explosions.
Explosion is tianjin red sea international logistics co., LTD., dangerous goods warehouse, container yard, reasons unknown. 22 about fire, rescue forces into the fire, but then two explosions, 23 explosion occurred at 12 for the first time in 34 minutes 6 seconds, after a second explosion in 30 seconds, two equivalent to 24 tons of TNT equivalent explosion, the mushroom cloud rose, two kilometers inside floor all glass shattered, rescue personnel trapped. Each big hospital near full, many are high temperature burns, glass parts.
From tianjin fire corps, 50 points on 12 August 22, the tianjin team called, binhai new area's psa red sea logistics for stacking, fire up to 13, 5, tianjin fire corps assemble 23 fire squadron 93 fire engines, more than 600 officers and men to fire at the scene.
It is understood that accident result in tianjin port cargo operations are badly affected, binhai new area part of the road is closed:
1) tianjin gate seven to ban all vehicles;
2) tianjin leaps across the road traffic control measures, it is strictly prohibited to all vehicles;
3) please go in and out of the tianjin port vehicle from tianjin 5 door, gate;
4) yongding new river beach avenue station closed ending north to south direction, lingang station south to north, ending in vehicles all around ching men avenue;
5) nine north street to recognize DongHai Road banned all vehicles;
6) DongHai Road 8 door to no. 4 road off to ban all the traffic.
Port dynamic and impact:
1) affected by the customs office building, has been adjusted business to handle location, but the customs clearance formalities such as affected by a certain, recovery time to be determined;
2) terminal point distance accident of northern xinjiang, has stopped operating, the iron ore inventories at about 1.4 million tons, the average daily amount of dredging port 6-70000 tons;
3) nanjiang port for air suspended particulate matter in job, or in the afternoon will be back to normal, the iron ore inventories around 5.7 million tons, daily average dredging port 220000 tons;
4) affected by the explosion, the dockers cannot operation, dynamic suspended all ships, tianjin port main channel for temporary traffic control;
5) according to the statistics in the tianjin port take delivery of 15 steel plant, the plant inventory available number of days in a week or so generally, short-term no big impact to the production demand, but this is for explosion, impact on air quality to a certain extent, have more has the policy of environmental protection, close attention to impact on the surrounding steel production in tianjin.
6) the latest news, alliance international terminal has returned to work, the Eurasia international terminal waiting for the port authority resumed work notice (according to berth plan reflect, the Eurasia international have resumed work conditions, and have been put forward to the port authority resumed work application). Wuzhou international terminal does not have operation conditions (wharf cable is damaged, are repairing), the road is all in sealing, if there are any update, will check at any time.
According to the steel mills are feedback for raw material, the respective business in all normal. Iron ore, day tube basic from nanjiang port iron ore procurement, and border ports (port) basic it is container cargo, bulk cargo is less, have little effect on them.
After investigation, the influence of the tianjin port bombings on surrounding steel mills:
At present the immediate influence mainly on the traffic restrictions.
1, a collection plan, the goods is not yet the factory has already cut to port, days, rolling, steel tube and so on have been withheld, mills said impact prediction to the weekend.
2, the goods already in the port, the one company, two companies still normal shipment. The follow-up situation, will continue to keep track. But it is understood that the explosion cause high-speed road, shanxi section steel mill imported raw materials affected, some steel mills in rizhao port, lianyungang, such as stock, the impact is not big.
Related posts