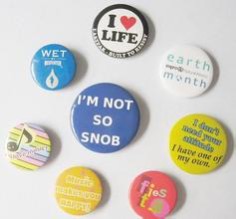 Tinplate, also called tin-coated, due to the surface covered with a layer of strong corrosion resistance of tin and have very good protection effect, is not easy to rust and corrosion.
Tin plating is a surface with a layer of tin, it is not easy to rust, also called tin-coated. Will iron made by dipped into the liquid tin melting. Tin is not lively than iron metal, neither does not react with water by air oxidation, so there are quite a strong ability to resist corrosion. A thin layer of tin plating on iron can be good protection effect. But coating electrochemical corrosion occurs, once they are damaged due to iron lively than tin, iron will serve as a galvanic anode oxidation reaction and loss, the existence of tin will speed up the corrosion rate of iron, tin and tin is different, so it can only under the condition of the coating in good condition is to protect the action of iron.
Tinplate badge is in such a tin to advocate material, with the printing technology a badge will be printed in the above picture and text, which has two kinds of plastic base and iron base. Behind the badge with pins, can don't as decoration such as clothes or backpack. On the market a very widely used way is to factory logo or brand logo printed tinplate badge, for some consumer products promotion. In addition to personalized tinplate badge and also has a certain heat, mainly as a personal commemorative gifts production.
Related posts