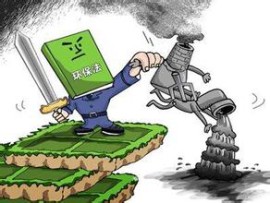 An unprecedented new environmental reversed transmission in the steel industry. When reporters learned that even said baosteel such benchmarking enterprise, some indicators standard is difficult. But the personage inside course of study and relevant experts believe that steel industry should find "method and the market regulation mechanism, different from the previous single administrative power control, the key lies in the fact that law enforcement on one to implement, be fair.
The new environmental huge vibration
After the "new environmental laws, and particularly in view of the eight new standard after the release of steel, iron and steel industry can be said to be the great shock." Baosteel group deputy general manager cui jian said.
According to the research department of baosteel, the new standard is almost covered from iron ore selecting, sintering, coking, iron and steel rolling process. Steel for kinds of pollutants more detailed comprehensive environmental governance, pollutant discharge standard is also much tighter.
"My steel" and so on the domestic iron and steel research institute researchers think that the new standards, some ways can use the "brutal" to describe. Iron and steel enterprises need to invest a lot of money for environmental protection technical transformation, the original thin margins, widespread loss of iron and steel enterprise is a great challenge.
The transformation of industry control
Iron and steel industry for many years has been calling for industry control to from "although" to "law and market" model.
Regulatory mechanism of "law and market" model, the most fundamental one is setting up enterprise development "legal compliance" new bottom line. Cui jian, the personage inside course of study says, the new environmental laws, through two "hard fist", one is on a daily basis for punishment, if defined in law violations, illegal enterprise improvement period to reach the goal, and then on a daily basis for continuous related penalty, uncapped. Raising the cost of illegal polluting enterprises, which is beneficial to eliminate the pollution of the disadvantages of low cost, open the "punishment pollution will have wiped out penalty possibility of incision. Second, shall be investigated for legal responsibility enterprise as a legal person. For first batch build refuses to correct the illegal act, intentionally causing serious pollution accident, can give punishment, such as public security detention of enterprise legal person. Violations of environmental protection of enterprise, not only economic loss, and to be shall be investigated for legal representative, business and corporate social reputation will have serious losses. The two punch, allows businesses to form the consciousness of new legal bottom line, don't hope that the protection of local government and environmental pr means.
New regulatory mechanism and important one, is to use the power of the market, exploring environmental management means and methods. "In short, environmental protection to mechanically forced on one hand, on the one hand, also want to actively, to make environmental protection produce benefits, become the enterprise industry you want to do." Cui jian, industry insiders said.
"Schedule" and the strict law enforcement is the most important
New environmental laws will be January 1, 2015 "gun". But according to the personage inside course of study analysis, implementation process, there are two things is the most critical, one is a difficult point for industry generally feel difficult, must be clear, actionable eduction "schedule"; Second, the law enforcement must be fair and strict.
For implementation difficulties of the industry, and industry advice, industry associations can play a greater role, through the objective, professional seminars, agree to submit to the national environmental protection supervision department, figuring out which link is also a lack of effective monitoring and management means, should organize research, put forward practical and feasible management requirements, to control pollution; At the same time, the government should formulate policies to encourage try frontier management technology unit. Discharge of clear "schedule" is very important, or simply "one pace reachs the designated position", most steel mills in some indicators will exist more or less to mark the phenomenon of instability, FaBuZeZhong easily.
With strict "schedule", for corporate behavior is still illegal, exactly how to dispose of, also is a new environmental law implementation issues. Industry researchers suggest, the execution of new environmental laws, should speak less "exceptions", shall be in accordance with the law, be fair, or "bad money after bad money" necessarily.
Related posts