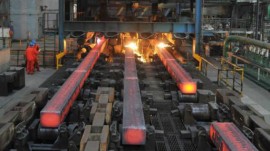 PMI in December 2014, hebei iron and steel industry is 48.2%, rose by 6.1%, 8 consecutive months contract. New orders and output index rebounded, finished product material inventory continues to fall.
Hebei steel mills in December's new orders index was 46.7%, rose by 7.6%. Recent macroeconomic data show that domestic economy is still not optimistic, but short-term signs of improvement. The national industrial added value growth of 7.2% in November, is down 0.4% in October, the growth of the lowest level since 2009. 1 – in November, the fixed asset investment grew by 15.8% year on year, growth dropped 0.1%. 1 – real estate development investment grew 11.9% year-on-year in November, the growth rate dropped 0.5%, 10 consecutive month-on-month drop. In December the preliminary HSBC China manufacturing PMI fell to 49.5%, the lowest level for seven months, economic growth is weak. However, 12 months early, large and medium-sized city commercial housing sales rose significantly improved further, back up to 20% compared to the same level, the first-tier cities clinch a deal the monthly price begins to rise, the drag on the economy of real estate may come to an end for the time being.
New export orders index was 39.3% in December, fell 6.2%, the export strength decreased significantly. Market rumors about the cancellation of the boron steel export tax rebate intensified, even said cisa leadership may will be introduced in the first half of 2015, the impact of varieties are mainly of rebar, wire rod and plate. In order to guard against risk, the vast majority of steel mills and traders on the sidelines, temporarily and unfinished contract to deal with. Some steel mills and traders to attempt to join other alloying elements, have begun to foreign quotation.
Output index was 52.2% in December, and rose by 17.5%, after the APEC meeting, hebei steel capacity utilisation rates rise to normal levels. From the steel association, according to data released on December key national steel production growth, early December middle national key crude steel mills and average daily output of 1.75 million tons and 1.78 million tons respectively, higher than during the same period production in November. From Mysteel investigation of hebei province and the national sample steel blast furnace capacity utilization point of view, the national steel mills in December and tangshan steel blast furnace capacity utilization also began to pick up.
In December the finished material stock index is 40%, rose by 1.7%, hebei steel mill steel stocks continued to decline, but the decline slowed. Cisa statistics show that 12 months XunMo key mills steel inventory of 14.88 million tons, the mid-november XunMo rise 420000 tons, national key steel inventories growing. Mysteel, according to the statistical data on December 26, the country's main steel social inventory for 9.63 million tons, 70000 tons of lower than at the end of November. It is worth noting that the social stock of the week of December 26 weeks from begin to grow, according to the law of history, social inventory will begin to continue to grow in coming months.
Raw materials inventory index was 44.7% in December, and 0.8% yoy, steel raw material inventory continues to fall, but the trend is slowing. Mysteel statistical data show that in December the sample steel coking coal inventory points from falling, ore inventory continues to pick up. From the source of raw materials procurement, hebei steel mills in December domestic ore purchases and flat in November, import ore purchases rose, import ore proportioning continue to increase, Mysteel survey in December, the national sample of steel imports ore proportioning have continued to rise.
Because the output growth is more, market oversupply, the decline in steel prices in December. December Mysteel steel composite prices fell by 3.5%, or 110 yuan/ton to 3027 yuan/ton, compared with the same period last year fell 16.7%, or 606 yuan/ton. Points varieties, long products fell by 4.9%, fell by 19.9%; Flat material fell by 2.3%, fell 13.8%. Raw materials, the price of iron ore for in December 530 yuan/ton, down 8.3% month-on-month or 48 yuan/ton, fell 44.5%, or 425 yuan/ton. Comprehensive coke price is 925 yuan/ton, down 0.26% month-on-month or 2 yuan/ton, fell 28%, or 365 yuan/ton.
In January, the domestic steel market remained weak. From the perspective of supply, originally belong to the production of season in December, but due to large steel mills profit space, the majority of steel mills are no production plan, in January, the situation is expected to last, market supply pressure is still high. From the perspective of the demand of large and medium-sized steel mills in December steel stocks began to increase, social inventory also begin to grow, that end demand shrinking, while demand continues to shrink in January probability is very big, market oversupply situation will not change. From the perspective of the cost of iron ore prices fell sharply again in December, but after entering the end of December, the futures market begins to rise, iron ore prices continue downward space is limited. From a macro perspective, the central bank will inter-bank savings into account, and will reserve provisionally to zero, which means that a large injection of liquidity to the market, help the economy stabilizing, but short-term hard to boost steel demand. As a result, the overall judgment, domestic steel market is still oversupply in January, steel prices will continue to decline.
Related posts