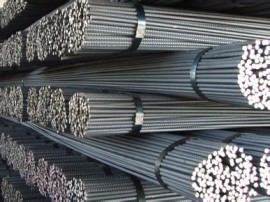 According to the concrete reinforced society (CRSI) data, is expected to rebar consumption year-on-year growth of 8% in the year 2015, but buyers worry rebar supply can't keep up with demand.
CRSI prime minister, said Bob Risser rebar the United States this year is expected to total 8.1 million tons, up 7.5% from a year earlier. Rebar consumption will increase to 8.7 million tons, 2015 year-on-year growth of 8%.
Parts of the domestic steel mills to increase steel output is very cautious, also are very concerned about next year's demand, because of limited capacity, some steel mills are also formulate relevant measures to deal with.
Due to the rebar in 20.58 to 66.7% of duties to Mexico, and thus are native to Mexico rebar also gradually out of the us market. The U.S. department of commerce data show that in November this year the United States imports from Mexico 73 tons of rebar, far lower than the same period last year, 28179 tons.
According to the steel association (AISI) data, the rebar imports is expected to grow 19% this year. 1 – imports in November of 1.32 million tons, 1.13 million tons rose 17% from a year earlier.
Related posts