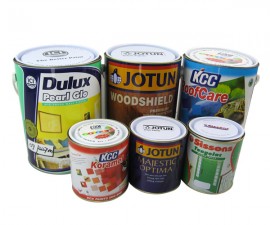 Tinplate packaging cans are made ​​from tinplate printing. Tinplate is coated with a layer of tin metal, it is not easy to rust, also known as tinned iron. Different classification can be carried out according to different criteria:
1) Press Shape: can be divided into round cans, rectangular cans, square cans, cans oval, heart-shaped cans and shaped cans.
2) according to the structure: can be divided into two cans, three cans.

Scope of tinplate packaging
1) Food: tea, coffee cans, chocolate cans, candy jar, moon cake boxes, tanks, cigarette and so on.
2) Gifts: jewelry boxes, perfume boxes, CD boxes, glasses boxes, stationery, table box, handle cans, money cans.
3) metal crafts: key ring, hanging lamps, candlesticks, fruit plate, pot holder, badges, coasters, buckets and so on.
Many applicable tin box packaging, environmental harmless.

Process characteristics of tinplate packaging
Process characteristics: an outer printed graphic beautifully structured, the layout clean, high-grade gold in the oil or varnish coating, quality, in line with food hygiene requirements. Two, buckle bone lap tightly sealed uniform and smooth, clear and smooth contour lines. 3, who can hit the tank lid or bump graphic signs, accurate positioning, three-dimensional sense.
Related posts