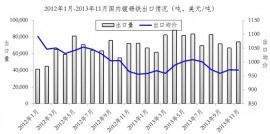 China tinplate advantages
First, the export market is conducive to improving the transfer of part of production to foreign markets. With the global economic recovery, rising demand for tinplate foreign markets, especially in Southeast Asian countries, such as the total amount of Thailand, the Philippines, Singapore, Malaysia and other countries in 2013 tinplate imports rose sharply. Of course, Europe must also promote economic recovery tinplate market demand degree. 2013 January-November Italy imported Chinese tinplate 71,173.17 tons, up 35.05 percent, the United States imported Chinese tinplate 23,235.1 tons, an increase of 13.12%.
Second, tinplate main raw material prices have fallen sharply over the past two years, the larger the likelihood of late stage rally
Cold rolled raw materials: 2013, domestic 1.0mm cold-rolled and hot-rolled 3.0 fell by 7.08% and 16.67%. In the current domestic and imported ore prices stabilize and widespread loss of domestic steel companies, the cold rolled prices continue to fall in the space is limited, do not rule out the possibility of post-concussion rebound.
Disadvantages of tinplate from China
First, domestic economic growth continued to fall, tinplate demand slow recovery. 2013 1-3 quarter gross domestic product (GDP) growth rate of 7.7 percent, is expected annual growth rate at 7.6%. Accordance with the "Twelfth Five-Year Plan", in 2014 China's economy continues to face pressure to adjust slowdown expected growth rate of around 7.6%. December 2013, China's manufacturing purchasing managers index (PMI) was 51.0%, down 0.4 percentage points from the previous month, the slow growth of domestic manufacturing demand.
Second, focus on the release of new capacity, the market is difficult to alleviate oversupply. In 2014 Shougang Caofeidian, Wuhan Iron and Steel, Nippon Steel production equipment has started rolling, Sha Steel, Tianjin Xinyu tinned equipment will also be on the line, plus Guangzhou Pacific capacity expansion, to 2014, the estimated annual production capacity of approximately 1.5 million tons of domestic tinplate National total capacity exceeded 100 million tons. Apparent domestic consumption of tinplate slow growth, in 2008 the economic crisis, tinplate capacity utilization declined sharply, the apparent consumption of negative growth; 10 years since tinplate capacity utilization continued to decline, the growth rate of apparent consumption farewell to 8% of the times, At present, the apparent consumption of about 6 million tons.
I outlined above, the current status of the industry's domestic tinplate, can be seen, the late and long-term market tinplate steel species facing severe challenges. But in the favorable factors to boost, we remain confident of the development of the industry, and will remain cautiously optimistic. First, the foreign economic situation improved export demand driven; Second, the rapid development of the automotive industry, and promote the production of tinplate to promote the use in the automotive field; third, energy saving applications in promoting tinplate in clean energy; Fourth, domestic beer technology will increase the demand for tinplate; fifth, medicine, cosmetics industry increasing demand for tinplate.
China is in the late stages of accelerated industrialization, the steel industry is still a long period of development. From this perspective, China's tinplate timely product innovation and upgrading, and economic mainstream standards, there is still considerable room for development late.
Related posts