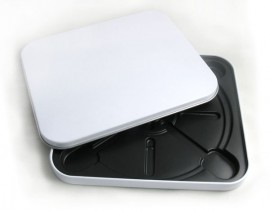 The discovery of tin and use can be traced back to prehistoric times, played a role of human civilization; Bronze; Age, is marked by the use of tin copper alloy bronze
Tin is silvery white metal, symbol of Sn, Ⅳ A clan in the periodic table, atomic number 50, atomic weight of 118.69. Tin tin in 13.2 ~ 161 ℃ for b (white tin), four strains. Below 13.2 ℃ for a tin tin (ash), belongs to the cubic system. Above 161 ℃ for y tin (sn), belong to orthorhombic system. Red, rapid tin oxidation and volatilization. Tin chemical valence is + 2 and + 4. Tin physical constants as: density, g/cm 3: tin 7.31 b (20 ℃), 5.75 (13.2 ℃); a tin Melting point 231.968 ℃; Boiling point 2270 ℃, specific heat, b 221.90 (25 ℃) focal/thousand tin, tin a focal 2135.268 / kg
Pure tin chemical properties is stable, not easy oxidation, long-term contact with air to form dense oxide film, the oxidation process is no longer to deep development. Use of this nature, tin, often used in the manufacture of tin plate (tin), food packaging materials.
Tin, good ductility, easy to machining, often processed into tube, foil, wire, bar and vessels of various kinds of refined. Tin almost can form with all the metal alloy, which mainly include solder, tin bronze, babbitt, lead, tin bearing alloy, printing, etc. In addition, titanium alloy, niobium tin and tin alloy silver amalgam, etc in the atomic energy industry, aviation industry, superconducting materials and medical aspects all have their own purposes.
Tin compounds in the main is tin oxide (SnO), followed by stannic chloride (SnCl4, stannous chloride (SnCl2) and organic tin compounds. These compounds can make porcelain glaze materials respectively, mordant dyeing and printing industry, plastic heat stabilizer and insecticides and fungicides.
Related posts