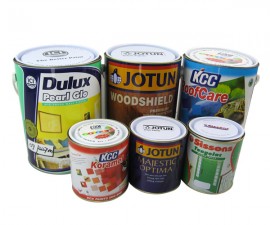 Coating according to the product. Such as ham can of printing, the sulfur resistance of coating should be chosen in aluminum powder paint, general antirust can choose epoxy phenolic kind coating. Besmear is outside the designs according to the customer to decide. Such as tin box, candy box, moon cake box to prevent edge tao scratches rust iron processing. Need to use transparent yellow coating, the purpose is antirust and beautiful.
At the same time must be taken into consideration when choosing tin coating inside contents of health requirements, requires inside coating corrosion resistance, good adhesion, flexibility, non-toxic, tasteless, conform to the requirements of the food hygiene safety. In addition, still should conform to the guangdong processability, such as after high frequency electric resistance welding heat, the repair coating of high temperature high pressure cooking after heating and canned not fade, do not break it.
Plate making, printing plate making though with offset printing plate making similar ways, but have different requirements on the process as a result of the printing is for metal containers or product packaging services, therefore, should understand when plate making the basic characteristics of metal packaging containers such as oil cans, and empty plate to consider its resistance welding requirements, design has certain spacing between, insure the product after printing processing to facilitate cutting, high frequency welding, and cans.
Related posts