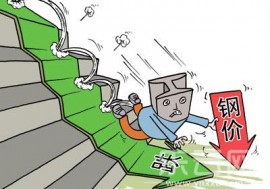 In steel demand forecasting results in 2015 conference, iron and steel industry experts, metallurgical industry planning institute director li xinchuang pointed out that iron and steel enterprises in financing faced "incredible high-interest loans", calling for blood banking for the market, create objective environment conducive to the development of industry.
Li xinchuang said, there is excess capacity and so on iron and steel industry itself, but the financial industry did not create the objective environment conducive to the development of steel industry. Li xinchuang points out that should see the financial sector profits is the squeeze on the real economy, behind the incredibly high financing costs, but also facing Banks "smoke" loan risk at any time. "Financial enterprise reform, the steel industry, there is no way out."
According to metallurgical industry planning institute of the Chinese steel demand in 2015 is 720 million tons, up 1.41% from a year earlier, including construction, machinery, automobile and other downstream industry demand for steel consumption growth will decline. Facing the demand of the market downturn, the steel industry will remain in a state of losses or small profit. Cisa, deputy secretary general QuXiuLi in iron and steel industry in the first three quarters of conference, the cumulative percentage of loss-incurring enterprises of iron and steel enterprises in the first three quarters of the key statistics for 25%. By the end of the September this year, large and medium-sized steel enterprises asset-liability ratio is 68.81%, this will increase the difficulty of the loan to the bank in the future.
Related posts