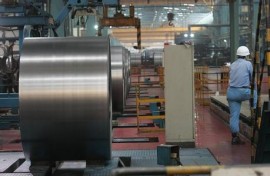 Electroplating factory in our country there are several common automatic electroplating production line, gantry type automatic straight line, circular vertical lift line, barrel plating production line, plastic electroplating automatic production line, etc.
Linear gantry production line:
Linear characteristic of the gantry electroplating production line adopts for gantry crane lifting electroplating parts (with hanging fixture pole or barrel plating roller). Each of the various plating trough and parallel arrangement in a straight line or more straight lines, crane make linear movement along the track, with a pair of or two on the crane for lifting hook to lifting, automatic line program as required to complete machining task. Gantry crane good rigidity, big, smooth operation, suitable for all kinds of artifacts, the size of the plating tank lifting for automatic line plating tank length is larger, can use this type of car body structure. Orbit installed on opposite sides of the tub, with slow track and run the corrosion and electrical sensor fault check the advantages of convenient; Using large plating tank automatic line of high-precision computer control, with automatic memory, storage, production process parameters for quality inspection trace advanced function; Can be equipped with vibration swing; Air stirring; PLC automatic control, precise operation; Can be equipped with high precision filter, to guarantee the plating quality; Can also be used with the high quality rectifier machine, to ensure the stability of the plating.
Circular vertical elevating electroplating production line:
Circular vertical elevating plating line with general plating line is a big difference on structure, lateral movement artifacts and movements are no longer for single slot, but the whole line hanging fixture and workpiece action at the same time, the single slot of workpiece on the rise, transverse, after falling into the next slot, plating bath and more than medicine to sink the artifacts in groove continuous movement, does not make the lift.
Artifacts of traversing through the motor drive chain, the chain drag orbit, the rise and fall of workpiece is through the motor drive chain, the chain drive the lifting platform, hold sliders, boom, hanging fixture and artifacts for up and down, all the actions have sensor control and safe protection, through certain Settings, can set program more implementation artifacts, air drops of water, job-hopping, falling to special requirements such as high.
Vertical lift ring plating line applicable scope is very broad, mainly for the variety, small parts, large output, process of a single product, including plastic plating, nickel chrome plating, copper plating, ABS copper nickel chrome plating requirement.
Barrel plating production line:
Drum panel sheet bending forming or use special grid plate spell stalwart forming, bit by bit independent drive, belt drive roller, chain transmission, 45 ° helical gear to drive, independent motor and speed reducer drive, can be infinitely variable speed rotation, using frequency converter or dc motor.
Plastic electroplating automatic production line:
Plastic plating is widely applied in the automobile decoration, mobile phone and sign industry, with the enlargement of the application of engineering plastics, plastic plating are expanding the scope of, mainly is suitable for the ABSPC electroplating processing plastic products.
In the first place in the plastic surface using specific methods for basic get a metal layer, make it have plastic metal, the advantages of both plastic metallization, then for regular plating.
Metallization of plastics overcame many defects of plastic itself, has a good solvent resistance, corrosion resistance, abrasion resistance, light resistance, good thermal performance, with metal appearance, finishes hardness, etc.
Related posts