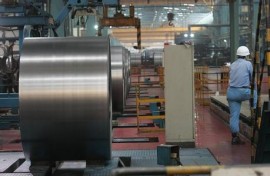 India steel production capacity increased, but the demand growth may slow.
Study on the mechanism of Frost&Sullivan (F&S) is expected, the 2015-16 fiscal year, steel production capacity is expected to 1.125 tons, than the 2013-14 fiscal year 1.02 tons by 10500000 tons, but the terminal demand growth is still slow. There are institutions, fiscal year 2015-16 India steel demand of 3%-4%, mainly used for steel sector demand will not have obvious improvement, this increase is obtained in the last fiscal year low base based on.
According to the India iron and steel data, 2014 4-11 month India steel production by 2.1%, to 58000000 tons, consumption only increased 1.3% over the same period, to 49000000 tons, demand is still fragile construction etc.. The government of India to remove the auto and home appliance sector consumption tax concessions in January 1st this year, the two departments requirements may be affected.
Related posts