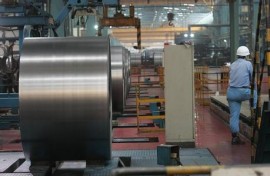 Last year strongly compressed energy intensive industries such as steel, cement, glass excess capacity, reduce coal consumption for the whole year 15 million tons, in 2015 in hebei province will continue to increase the scientific and precise haze, in accordance with the rules in accordance with the pollution, reduce the coal consumption of 5 million tons, and through all eliminated consists, implementation of the new discharge levy standard, carry out pilot emissions trading and other measures control air pollution.
8, hebei provincial governor qing-wei zhang in hebei province for the 12th session of the National People's Congress for the third time the meeting, said the government work report in 2015, hebei will dissolve the crude steel production capacity of 5 million tons, 6 million tons of cement and flat glass box 3 million weight, reduce the coal consumption of 5 million tons.
The New Year, hebei will pay more attention to science and technology strength of the pollution treatment, will use the micro coal pulverization technology transformation of urban and rural coal-fired boiler, the construction of clean coal distribution center and supply network, raise the proportion of clean energy utilization; To speed up the industrial enterprises "withdrew from the city, into the park", implement a group of cleaner production demonstration project; In view of the vast rural areas, will be carrying out rural clean energy development and utilization project, promote the comprehensive utilization of straw.
To reduce vehicle emissions, hebei will eliminate consists all cars, a focus on districts and the city bus, taxi industry promotion of new energy vehicles and clean energy vehicles. At the same time, innovation, energy conservation and emissions reduction mechanism, strengthen the industry, transportation and construction in key areas such as energy saving, the implementation of contract energy management, the implementation of the new discharge standard, carry out environmental pollution to a third party and pilot emissions trading, to speed up the marketization of pollution treatment facilities construction and operation.
To solve the excess capacity, hebei 2014 reduce ironmaking production capacity 15 million tons of 15 million tons, 15 million tons of steel, cement, plate glass box, 25.33 million weight have overfulfilled the national task. Hebei sharply reduce the coal consumption, strict controls of inferior coal use, speed up the central heating and coal to gas, eliminate 39600 sets of coal-fired boiler. At the same time, the implementation of the iron and steel industry structure adjustment, steel moved from the city of shijiazhuang, tangshan bohai steel restructuring moves, wuan city back into the iron and steel enterprise upgrading project startup. After treatment, and 11 districts in hebei urban air quality standard number of days increase 23 days on average, more than heavy pollution days reduce 14 days.
Related posts