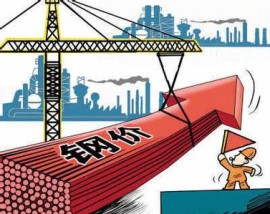 "Held on January 8, 2015 commodity market peak BBS and press conference", steel analyst He Hangsheng said that in 2015 China's steel industry still faces a serious challenge, performance in the global iron ore supply pattern, raw ore price decline does not stop, the cost of support; Second, "yan" in the history of new environmental laws will be enforced, or eliminated or governance, environmental governance rigid constraint mills development; Again, new production capacity, backward production capacity out slowly, will form a pattern of more edgy overcapacity; Fourth, efforts to increase international anti-dumping, and export tax rebate reform restrictions, export markets less obvious; Fifthly, to maintain steady growth strategy, domestic production growth is slow, the future infrastructure hong kong-listed needs no big change; Finally, the integrated steel mills transformation, superior bad discard.
Under the negative influence, He Hangsheng thinks, steel industry in 2015 the overall challenge increased, but the opportunity also. Iron ore has bigger gains in the second quarter of 2015, slight gains in the fourth quarter, the rest for oscillation downward. The overall decline or two-thirds will be 2014. Look from the index, the highest point at 800 points, the lowest at about 680 points.
According to statistics, 2014 were completed and put into operation a blast furnace 24 cities across the country, the design capacity of 35 million tons, compared with 2013 increased by 2013 tons of production capacity by half. In 2014 is expected to put into production equipment nearly 8 million tons of production capacity has been built in 2013, but limited to the steel market environment of continued downward, most of the production to be extended. In 2014, the domestic out the target for 27 million tons of steel production capacity, so in terms of capacity elimination, out no new increase in 2014. And without considering out tasks, expect the 2014 crude steel production capacity is expected to reach 1.06 billion tons, hit a record high. 1 – in November 2014, on the other hand, the crude steel production 745.204 million tons, up 5.0% year-on-year, crude steel production in the whole year of 2014 is expected to 810 million tons, will hit a record high again.
He Hangsheng pointed out that the domestic steel industry projects of high productivity and high production operation situation in the short term is difficult to reverse, difficult to dissolve the contradiction between supply and demand. Now the Chinese steel industry "cold winter" has not yet come.
Related posts