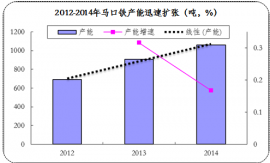 By the European debt crisis and the world economy, domestic economic growth continued to fall, the Troika growth rate slowing down to varying degrees, the domestic tinplate industry downstream food, beverage, gas cylinders, cans and other miscellaneous metal packaging sector, substantial demand growth decline. After last year Kema, Comer, thought the text Cod and other production release, the market supply and demand imbalances worsen; year WISCO Nippon Steel, Shougang Caofeidian new yield line started again on supply and demand levels as worse. Meanwhile, the European economic recovery, the recovery of the American economy, such as robust, reflecting the foreign economy is improving, will bring positive domestic export markets. Comprehensive view, the current domestic tinplate industry is facing great challenges and opportunities.
Market fundamentals: the depth of domestic economic reforms vigorously to the steel industry production capacity, tinplate supply pressure is expected to improve. But overall, good bad superfluous, tinplate industry will inevitably encounter eliminate backward production capacity, brand fierce competition, and the market price or the shock weaker. The author below domestic tinplate market from the past two years, the operation to proceed, outlining the current challenges and opportunities facing the industry.
Under the global economic recession, the rapid expansion of domestic tinplate production, tinplate production costs remained high and other factors effect the domestic tinplate market weakness in 2012-2013 the overall operation, has the following characteristics:
(A), the domestic economic slowdown, weak long-run market price of tinplate
Since 2010, GDP growth continued to fall, down from 12.10% in 2010 to 7.70% in the first quarter of 2013 1-3 quarter. Affected by this, tinplate demand slowdown, showing an overall decline in the market price trend. By the end of 2013, Baosteel MR0.25 * 800C market price of about 6900 yuan / ton, down 14.8% the previous year; private factory SPCC0.23 * 800C market price of about 5600 yuan / ton, down 13.8% the previous year.
(B), the rapid expansion of production capacity, breaking the 10 million tons mark
After 2008, private factories began to explore the road of tinplate products development, and in 2012-2013 with an annual capacity quickly cast until 2012 the country more than 100,000 tons of tinplate manufacturers aggregate designed annual production capacity exceeded 600 million tons in 2013 to break nine million tons, and break through 10 million tons in 2014.
(C), high production costs, rapid decline in profits
After entering 2013 tinplate rapid decline in the market price, but the price is high cold-rolled, cold-rolled substrate, thus causing the cost of the purchase price is too high, tinplate manufacturers profits are excessive compression, as well as a partial loss phenomenon.
Related posts