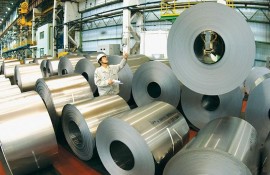 Japan has recently responded to the United States on Japanese tinplate and TFS steel dumping appeals court ruling said he was very unhappy, and even can be said to be angry. However, despite the Japanese manufacturer looks With discontent are not interested in the case, but they turn their attention from a number of markets around Japan. A spokesman said they believe the Japanese steel mills, it now appears China, Southeast Asia and Japan's domestic market compared to the U.S. market to be "much more important."
While Tokyo's messages are complaining that they appeal the court's decision to the United States was "very disappointed", but Japan Iron and Steel Federation and the Ministry of Economy, Trade and Industry of Japan and the Japanese steel mills, are also not prepared to comment on the verdict. At this time in June in Japan Iron and Steel Federation chairman Hajime Bada of the United States International Trade Commission (ITC) made ​​a decision to maintain tariffs on another five years with the formal conviction conclusions drawn in stark contrast. However, the Japanese have claimed that the United States is currently deciding whether to appeal the verdict of the Supreme Court on August 10 in. They also said the United States is a big market, and stressed that U.S. consumers will want to tariff exemptions, welcomes Japanese tinplate market once again return to the United States.
It is understood that, in August 2000, the United States Commerce Department began to come from Nippon Steel, Kawasaki Steel at the time and NKK (which is now JFE Steel Corporation) and Toyo Kohan Japanese companies such as steel production of tinplate and TFS steel imports 95.29% levy anti-dumping duties. Five years later, in mid-November last year, the United States Department of Commerce after the anti-dumping duties for five years to review once again decided to continue to the Japanese tinplate and TFS steel and other imports to impose anti-dumping duties on the grounds that the tariff Once stopped, will lead to Japan's dumping behavior. Therefore, during the January to June, the Japanese exports to the United States only 3876 tons of tinplate and TFS 9712 tons of steel. By contrast, during the period of Japan's total exports of tinplate and TFS steel but were as high as 23.7919 million tons and 9.2163 million tons. Both the United States on the Japanese intensity of anti-dumping and its effect is very obvious.
Note: TFS steel that Tin-Free-Steel, which is chrome plated sheet steel (ECCS) another name. TFS steel used abroad more than 30 years of history, the amount of Japan and the United States and other countries have with the use of a considerable amount of tinplate; TFS domestic steel production is from 2000 since the beginning.
Related posts