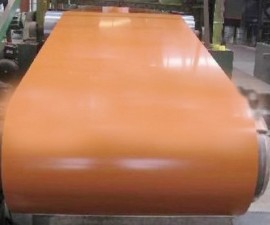 Color coated sheet products in accordance with the different forms have different classification, we usually understand can be divided into the following several, hope these knowledge introduction, can to some help to the general user.
Cold rolled plate of color coating steel plate
From the color plate cold rolling board production, has smooth and beautiful appearance, processing performance and has cold rolled plate;
Hot dip galvanized color coating steel plate
The organic paint coating on hot dip galvanized steel sheet on products for hot galvanizing and coating plate. Hot dip galvanized Caitu besides the protective effect with zinc, organic coating on the surface of still had isolated protection, prevent rust role, the service life is longer than the heat galvanized plate.
Hot-dip zinc coated board
According to the requirement, also can use hot aluminium zinc plate as coating substrates (55%AI-Zn and 5%AI-Zn).
Electro galvanized and color coated sheet
Electricity galvanized plate as a substrate, coated with organic coating baking income products for electric galvanized Caitu, because the electric galvanized plate the zinc layer is thin, often containing zinc quantity is 20/20g/m2, the product is not suitable for production use in outdoor walls, roof.
Related posts