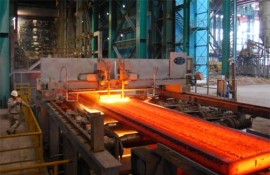 In the first three quarters of China's steel exports increased significantly, at the same time, China's exports to several Asian countries enjoy preferential taxation policy, amount of steel sparked criticism. They think that Chinese steel mills with the advantages of export tax rebate policy cheap sales excess steel. Countries such as India's steel mills, said China these steel added only minimal boron to enjoy tax credit, and has urged the government to take measures, because of concerns about cheap steel can lead to some small local steel mills to fail.
Steel exports in the import and export spreads widened
Cisa statistics show that in the first three quarters of this year, the national steel exports of 65.34 million tons, year-on-year growth 39.3%; Imported steel 11.01 million tons, up 5.0%, keep small growth; Amount to 57.8 million tons of crude steel net exports, year-on-year increase of about 19 million tons, in the same period year-on-year increase of about 13.9 million tons of crude steel production in the country. Steel exports in September of 8.52 million tons, year-on-year increase of 760000 tons, up 9.8%; Imported steel 1.36 million tons, year-on-year increase of 190000 tons, an increase of 16.2%. In the first three quarters of the steel import prices $1246 / ton, an increase of $37 / ton; Export an average of $783 / ton, fell by $74 / ton; Spreads widened to 463 dollars/tons of imports and exports, import and export price continues to increase. Steel exports due to a large number of growth since this year the domestic steel prices fell sharply, and the international market prices less, price difference is bigger at home and abroad.
Domestic steel composite price index at the end of September (CSPI) was 86.35 points, 12 consecutive months is below 100 points, down 14.22 points, a 14.14% decline, with long products prices fell more than plank price drop, are at their lowest level since January 2003. Enter since October, prices continue to fall, on October 17 steel composite price index fell to 86.15 points, continue to hit a new low. According to the iron and steel enterprise financial settlement price monitoring, steel average settlement price in September fell 108 yuan (excluding tax), fell by 3.55%, 2.03% decline to expand; Accumulative total fell 314 yuan/ton, a 9.06% drop.
Mr Zhang said that steel exports rose again in September, in the fourth quarter is expected to maintain stability, steel exports exceed 80 million tons this year has been a foregone conclusion. But a large number of low value-added products exports will multiply trade friction, which affects products continue to export, export and low value-added products do not accord with our country's current economic development needs, will bring the adjustment of the export policy. Therefore, at the present product structure of a large number of exports to digest excess of domestic production is not a long-term solution. Along with the increasingly fierce market competition, steel mills will insist on no production, the marginal contribution not less than the principle of no sales, no payment no shipment cost, effectively control the release of capacity, will restore to a reasonable level of supply and demand, industry to get rid of the plight, enters benign development track.
Boron steel export tax rebates will cancel the guess
Exports said China's steel export surplus attracted numerous questions abroad, anti-dumping sound in an endless stream, including boron steel challenged become most varieties. "As a low value-added of construction steel, rebar, wire and other construction steel export tariff rate is 15%. If you add a small amount of boron element, however, can be divided into alloy steel exports, and can obtain certain export tax refund." One insider revealed to reporters. Plus the cost of boron is quite low, so various steel mills to export steel containing shed in recent years.
Analysts said, about whether can cancel the export tax rebate, from 2012 began discussing, it is not clear. But predictably, cancel the export tax rebate for hong kong-listed is currently in a downturn is undoubtedly a fatal blow. 1 ~ 9 in steel exports accounted for 7.8% of steel production, while share looks small, but if the FenFenLiu export resources into the domestic, so creating a strong shock, not steel mills production is steel prices fell sharply. And on the transformation of iron and steel industry is facing major joints, cancel the export tax rebate even rougher, so this news or not implement before mid – 2015. Even so, the steel mills or should confront boron steel exports, actively and improve the added value of exports of steel, eliminating dependence on boron steel exports.
Related posts