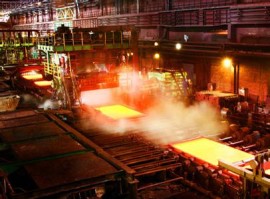 In 2014, the private iron and steel enterprise belongs to the integrated iron and steel enterprises in hebei province is about 90. Throughout 2014, hebei province private steel companies to complete the main business income is 864.534 billion yuan, rose to 7.40%; Profit of 19.015 billion yuan, accounting for the iron and steel industry in the province 90.62% of the total amount of profits, up 21.81%; Realize the profit tax of 24.789 billion yuan, up 5.39% from a year earlier.
In 70 key private steel enterprises, a total of 58 corporate profits, profit of 11.597 billion yuan. 56 companies in 7.005 billion than the same period in 2013 yuan of profit more than 4.592 billion yuan, up 65.55% from a year earlier. There are 12 enterprises loss, the loss of 1.508 billion yuan, compared with the same period in 2013 12 companies ZengKui losses of 802 million yuan, 706 million yuan, loss expanded 88.03% year-on-year.
Under the condition of the market situation is grim, and how the private iron and steel enterprise is profitable? What is worthy of reference for other steel mills of the experience and practices? The author will do some simple analysis.
The basic characteristics of hebei province private steel mills profit: profit levels higher than the national polarization serious
In 2014, hebei province private steel enterprises production and business operation presented the following features:
The fall in crude steel production, hebei private steel enterprises to realize profits soared. In 2014, the private iron and steel enterprises in hebei province crude steel output of 120 million tons, fell 2.11% year on year; But profit growth, up 20.81% from a year earlier.
Second, the return on sales levels above the level of the province, the national iron and steel industry. Hebei province private steel enterprise sales profit margins of 2.20% in 2014, the province's steel industry sales margins (1.87%) higher than that of 0.33%, more than the national key large and medium-sized iron and steel enterprise sales profit margin (0.74%), 1.46% higher.
2014, return on sales is located in the top 10 10 private steel mills are: hebei PuYang steel (10.81%), tangshan port (5.54%), xingtai delong lu (4.06%), langfang far enough (3.95%), xinji, Australia's (3.92%), sky column group (3.83%), tangshan tangshan ruifeng (3.26%), the li & fung (3.22%), tangshan feng (3.05%), qianan YanGang (2.46%).
Three is the enterprise profit level was recovered. In 2014, the private iron and steel enterprises in hebei province return on sales by 1.82% in 2013 to 2.20% in 2014, increased by 0.38%. In the survey of 70 private steel enterprises, in 2013, with 36 companies fluctuated to a certain degree of profits, to decline to 25, 2014 enterprises; In 2014, the profitability of the enterprise profit level is 65.55% higher than that of 2013.
Four is earnings more profits, loss of enterprise loss is bigger, benefit polarization trend is obvious. In 2014, 15 private steel enterprises profits of 7.912 billion yuan, more than 4.396 billion yuan in 2013 profit increased by 3.545 billion yuan, profit than to expand by 80.64%. In the same period, 12 losses of enterprise loss of 1.508 billion yuan, compared with the same period in 2013 (802 million yuan) ZengKui 706 million yuan, loss than to expand by 88.03%.
Five is the industry presents the asset-liability ratio is low, the loss of profit enterprise high asset-liability ratio. For 180 million yuan of above 2014 profit before 24 private steel enterprises according to the survey, the enterprise average asset-liability ratio is 54.95%, compared with 12 losses on private sector average asset-liability ratio is 81.09%.
Basic experience of profit: the product, cost, management will benefit
Overall, these profitable private steel enterprises have similar characteristics.
First of all, on the product.
Advantage products, fist, or good brand enterprise to win the market, benefit is also better accordingly. Tangshan port, for example, land is given priority to with producing hot rolled thin strip wide, has certain influence in the market, production accounted for 95% of the business of steel production, in 2014, profits of 580 million yuan. Tianjin west group's large steel and other products in the market have a certain brand benefit, in 2014, profits of 787 million yuan.
Have more than one product varieties and specifications, to adapt to market changes relatively good profit of enterprise. For example, in order to be able to adapt to market changes, timely PuYang steel medium plate, medium thickness steel band wide and thick steel plate, wire rod, such as seven or eight varieties, which product higher price increase production, and which don't earn money don't production, to ensure the optimal PuYang steel across the industry profits.
Products close to the market and the business that can occupy the market, efficiency is generally better. Langfang for the iron and steel companies such as steel, far enough forward built in the market, the main production of hot rolled sheet, hot rolled narrow strip steel, and other products. In 2014, forward steel profits of 181 million yuan, far enough company profit of 400 million yuan.
Secondly, on the cost.
To strictly control the cost, occupy the market with a low cost strategy of the enterprise can keep good general benefits. In 2014, the high efficiency of private enterprises are attached great importance to through various channels to reduce the cost.
Through the whole process flow system, for example, reduce the cost. Common measures is cost reduction to iron and steel, scratching efficiency, management after austerity. In front of the iron to coking coal blending, the sintering burden and blast furnace ore matching with the "three" as the key point, take account before mining way, namely first cost calculation, evaluating purchasing good profitability after receiving orders, conscientiously do a good job in optimizing the iron before the cost to a minimum. After steel, market-oriented vigorously promotes the production organization optimization, flexible adjustment of product varieties, fully compressed inventory, carry out technology research and development and technical problems research work, implementation technology optimization, improve the technical indexes, lower the manufacturing cost. In-depth development at the same time, the cost of the activity, improve the technical and economic indicators, reduce the cost of "three", promote enterprise cost reduction. In wuan, PuYang new gold steel, steel, xinghua iron and steel companies every month even every week for standard activities, the effect is very apparent. From the industry statistics PuYang iron accumulative total cost from industry ranked 26th, 2013, to rise to 2014 14th; The cumulative cost of pig iron from 2313.52 in 2013 yuan/ton dropped to 1851.72 in 2014 yuan/ton, lower 461.80 yuan/ton. New gold pig iron accumulative total cost of steel industry ranking 46th rise from 2013 to 2013 years of the 20th, the cumulative cost of pig iron from 2397.61 in 2013 yuan/ton to 1877.24 in 2014 yuan/ton, lower to 520.37 yuan. PuYang steel profits increased from 2013, 395 million yuan in 2014 to 1.71 billion yuan, up 333.31% from a year earlier. New gold steel profits increased from 2013, 131 million yuan in 2014 to 304 million yuan, up 132.66% from a year earlier.
Such as again, pay attention to the improvement of the process flow to reduce the cost. PuYang important reason is the company good benefit achieved from coking, sintering, ironmaking, steelmaking, the hot rolling and cold rolling process of chain of the whole flow of perfect matching and perfect matching process, and the running status in each process to the limit, so that the cost of production is superior to other process flow and technology do not form a complete set of enterprise.
Also, to guarantee the subject system and auxiliary system supporting authors to complete the cycle efficiency. All good benefit enterprises, attaches great importance to gas, steam, industrial water and slag, coking byproduct of "five big circulation recycling project" full implementation, so as to maximize the comprehensive, recycling all kinds of energy and resources, such as the use of pressure, gas remaining heat and power generation, the slag, slag powder and cement raw material recycling, for generating revenue.
Third, in the make an issue of management.
Good benefit enterprise, pay attention to the transformation of management idea, from the past to production as the center to cost, efficiency as the center, from the past in their own way of decentralized management, to use unified thought to lead and guide the enterprise of all production and business operation activities; Attaches great importance to the enterprise's management upgrading, from extensive management to scale and intensification management in the past, "is doing" from the past to now calculate with the "dry", accomplish "prior budget, matter controls, afterwards assessment".
Good benefit enterprises emphasize to govern, attaches great importance to the corporate control work, especially the highlight of the whole process cost control, comprehensive control, fully controlled all day long and controlled management; Establishing rapid response and response of the market mechanism, strengthen the research of the market judgment, cooperate actively to calculate cost account, and adopt low inventory to reduce inventory use cycle; The authors work efficiency linked to assessment, strengthening the rewards and punishment cost assessment, make full all care about cost, all care about the profit, in order to ensure the improvement of enterprise economic benefits; Attaches great importance to the corporate staffing levels and labor organization optimization work, try to streamline staff and workers to achieve increase, such as in 2014, large profit workers feng tangshan countries 7.62%, calderon steel decreased 15.66%, 15.66% new gold steel workers… The enterprise profit growth of 20% or more in 2014; Improve labor efficiency, in order to improve economic efficiency of enterprises. According to statistics, in 2014 in the entire province to realize the profit of 180 million yuan to 1.71 billion yuan of 24 private steel companies, steel output per capita has 11 enterprises more than the national per capita level of 600 tons of steel production, iron and steel industry and the enterprise profit is positive growth in 2014. And profits in more than 180 million yuan in 2013, only 14 private steel enterprises, of which more than 600 tons of steel output per capita of only four companies.
Related posts