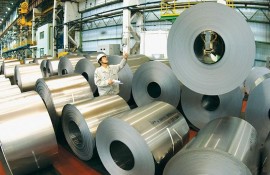 First, the definition of tinplate
Tinplate refers to the low carbon steel in 0.10 ~ 0.32 mm thick plate surface coated with a layer of pure tin plate, commonly known as tinplate.
Second, the performance of the tinplate
Tinplate has good corrosion resistance, and has certain strength and hardness, good formability and easy welding, avirulent insipidity, tin layer can prevent iron dissolved into the package, and the surface is bright and light, the printing picture can beautify the goods. Mainly used for the canned food industry, the second for chemical paint, oil, medicine and other packaging materials. Tinplate according to production process is divided into hot tinplate and electrolytic tinplate. Statistics must be calculated on the weight of the coating after tinplate production.
Third, the influence factors of tinplate
The influence factors of tinplate is more, such as grain size of plate, precipitates, solid solution elements, thickness, etc. Production process, the heating of the chemical composition of the steelmaking and hot rolling and coiling temperatures and continuous annealing process conditions will have an effect on the performance of the tinplate.
Four, tinplate production methods
Production method has two kinds of heat plating and electroplating. Hot plating tin coating thickness and uneven, tin consumption, low efficiency, thus gradually eliminated by plating method. Plating method, high productivity, low cost, thin and uniform coating, can produce different coating thickness, still can be single or double plating.
In addition, still can produce low tinplate, single-sided tin volume is 1 g/m, but must have the necessary preprocessing layer or post-processing in order to increase the corrosion resistance and weldability, to meet the requirements of can process. Tin plating steel sheet is widely used in food cans industry and production of portable corrosion resistant vessels.
Related posts