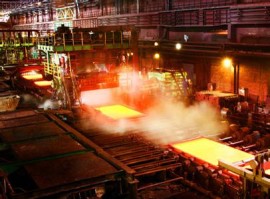 In the past twenty years, from Japan, South Korea and China Taiwan steel mill of new steel capacity investment push Vietnam explosive growth. According to the Vietnam steel association statistics, in 2014, Vietnam's domestic steel output reached 12.3 million tons, up 19.8% from a year earlier, and this year is expected to further rise 14% to 14 million tons. However, the rapid growth of steel imports could affect the further expansion of Vietnam steel production capacity.
Vietnam recently attracted a lot of investment will further promote the country's steel industry scale expansion. In July this year, Japan's joint venture with Vietnamese companies co-prosperity of the construction of the iron and steel company (VinaKyoei) annual capacity of 500000 tons of steel and steel rolling workshop production, make the company annual production capacity is close to 1 million tons. Japan JFE steel company announced investment in Formosa tinh iron and steel company, the joint steel mainly invest in the construction by China Taiwan Formosa plastics group, is located in north-central Vietnam tinh province yong an economic zone, steel production capacity will reach 3.5 million tons next year, and plans to eventually will reach 22.5 million tons. Observers pointed out that in the field of iron and steel cooperation between Japan and Vietnam, is not only commercial relations, also is a kind of political considerations.
Vietnam's economy maintained rapid growth, GDP growth is expected to reach 6.2% this year, leading to an influx of imported steel Vietnam, mainly from China, Japan and South Korea, which could make the country's ambitious steel production capacity expansion plans. Vietnam's ministry of trade and industry, said the Vietnam steel apparent consumption rose 22.8% last year, but was in large part by imports to meet, imports reached 11.8 million tons, up 25.6% from a year earlier. In the first half of this year, Vietnam steel imports climbed to 6.9 million tons, it is almost as the country's steel production.
Related posts