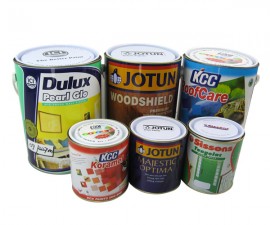 Tinplate packaging due to its good sealing and preservation, avoid light, strong and unique metal decorative charm, determines its packaging container industry has extensive coverage, is the international general packaging varieties. As tin CC materials, DR materials, chromium plated iron constantly enrich, to promote the packaging products and technology development, tinplate packaging full of innovation.
Due to its oxidation resistance is strong, and diverse styles, beautifully printed tinplate packaging container loved by the masses of customers, is widely used in food packaging, pharmaceuticals packaging, daily necessities packaging, instruments and meters, industrial packaging, etc.
Forward-looking industry research institute of China tinplate packaging container industry market forecast analysis of foresight and investment report showed that tinplate packaging container high strength and good formability, strong compatibility of products has been in the international market for its many advantages such as a good "reputation". So, paid attention to by all countries in this kind of packaging container, is a kind of metal consumption in the world's largest packaging sheet.
According to the different requirements of packaging industry, the thickness of tin, tin plating, mechanical properties and so on all have different needs. Since the advent of tinplate has been developed to the direction of thinning. One is to use less tin tin or none at all, a is the substrate thickness thinning tinplate. Its purpose is to adapt to changes in the can product and reduce the cost of guangdong province.
You might be interested in study:
Color printing cardboard barrels industry in China in 2014-2018 market analysis and investment planning (2014-2018 China pharmaceutical packaging industry market demand and investment planning analysis waterproof PP paper industry in China from 2014 to 2018 the market demand and investment plan analysis report 2014-2018 Chinese paper tray carton industry market analysis and investment planning stickers non-carbon carbon paper industry in China in 2014-2018 market analysis and investment planning (2015-2020 Chinese rfid industry market forward-looking strategic planning and investment analysis report more research report > >
With the continuous improvement of tinplate printing technology and processing technology and improvement of tinplate packaging application is more and more widely. At present domestic tinplate production capacity continue to improve, tinplate imports will gradually reduce, in addition to part of a high grade product still needs a small amount of imports has been largely self-sufficient.
Forward-looking industry institute of tinplate packaging container industry research group, said the needs of packaging industry in our country, the metal packaging both in quantity and quality put forward higher requirements. In 2010, our country's metal packaging container sales revenue exceeds 50 billion yuan, also make the metal packaging has entered a new growth opportunity, sustained and rapid development of food industry for tinplate packaging container industry with broad market space for development.
Related posts