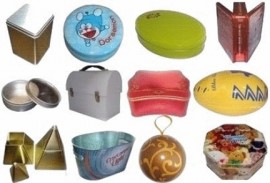 European steel packaging association (APEAL) issued by the evaluation of tinplate life cycle inventory (LCI), and is the eu based database (ELCD) life cycle.
ELCD is the new database, the evaluation system of the life cycle by the European commission on February 6, 2014. The user can obtain reliable ELCD database through a network of high quality life cycle data.
The European steel high quality tinplate packaging association data has passed the international life cycle (ILCD) primary audit database. ILCD for submission of the data file, a test method of consistency.
European steel packaging association chairman Mr AlexanderMohr said: "our association released life cycle inventory data can be used as steel packaging industry data base in Europe." Adding: "steel packing data released to the public can let more people have realized that steel packaging's contribution to the environment, especially the European steel packaging industry in the past two years to slow global warming trend, reduced 9% of the world's carbon dioxide emissions."
The establishment of the tinplate life cycle life cycle data reliability can be improved; To reduce spending on life cycle analysis; And eventually make all the government, the enterprise when making policy, the company's strategy to get more information, faster to obtain environmental certification material.
Related posts