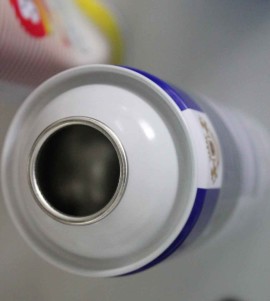 Tinplate aerosol cans make up about 80% of China aerosol containers. China has many of the tinplate aerosol cans production enterprise, in the coastal area of the pearl river delta, the Yangtze river delta and the haihe river delta is particularly intense. Representatives of tinplate aerosol cans producers is hangzhou cofco meetall container co., LTD. Cofco is China's largest and most modern tin of aerosol cans production enterprise. It is one of the top 500 global China cereals, oils and foodstuffs import and export (group) co., LTD., with the United States Boer Asia Pacific co., LTD., joint venture, with a total investment of 70 million dollars.
Enterprises in China have been developed using membrane and compound membrane can technology and machine. At present, 100 cans/points have been put into operation in the integration of the production line. Production of aerosol cans modification effect, scraping resistance, corrosion resistance is superior to the traditional tin cans.
The application range of the tinplate cans have been expanding. Has useful tinplate cans packaging of moss, gel water, cleansing milk, cream, toothpaste and other products listed. Due to the novel and cheap, welcomed by consumers. Salty foods such as seafood sauce, spicy condiment, aerosol are also listed.
Aerosol in China today is market accounted for only 6-7% of the world, but the market contains huge development potential and business opportunities.
Related posts