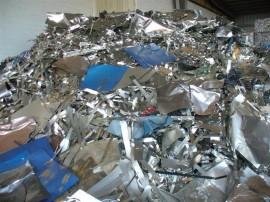 Removal of other contaminants on the tin residues, currently has developed a shredding machine equipment, can effectively remove more than 98 percent of the pollutants, provide good quality scrap iron. In addition the United States has also pointed out that the presence of aluminum easy open system in favor of scrap metal and then, because of Hot Metal when it can reduce the amount of steel, reducing the overall cost of iron and steel manufacturing.
In addition, in terms of energy savings, the report noted, the use of tinplate production of iron and steel scrap compared to iron ore production, scrap iron per ton can save about usage 230m³ natural gas cans in the recycling system so the process can reduce the global environmental and the impact of energy, in line with future product trends.
Such as tea tin packaging, tea tin packaging then it is the first impression on the market a single pack of cans, or a small box. Usually we see tea packaging is paper gift boxes, wooden packaging. Tin packaging market in the range of less monotonous no significant level. Today I would like to say is not that low-grade tin packaging, so there is no grade.

Tin box hardness test, you can choose PHR-1S type surface Rockwell hardness, it weighs only 0.7kg, you can test the thickness of 30mm or more 25mm 0.05 to strip material, testing more than the inner diameter of 26mm pipe inner wall of the hardness test inside diameter the pipe wall hardness. Accompanied by a diamond anvil point can test tinplate HR30Tm hardness. This instrument can easily strip to the production site and sales site and materials warehouse to use. Online quality control can be used to tinplate production plants can also be used to recheck tinplate use plant material can also be brought to the steel market to buy materials.
Related posts