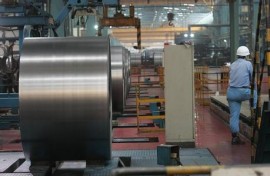 This week, the European plate volume market remained weak, the market supply and demand fundamentals did not improve, the mood more pessimistic, steel mills and willingness of the end user to reduce inventory.
Sheet, ruhr in Germany this week hot roll ex-factory price temporarily stabilized, reported in 330-330 euros/ton, import price and flat last week, in the 300 euros/ton (CIF, Antwerp); But the cold roll prices continue downward, local cold roll ex-factory price fell 5 euros/ton, in the 420-430 euros/ton, the actual price may be lower, the import price fell 10 euros/ton, in the 380-390 euros/ton (CIF, Antwerp), since June, the cold roll import price has fallen around 50 euros/ton. Market is expected at the end of the sheet, prices are still falling space until the price close to the cost line.
Medium plate, due to the recent lots of cheap imports of resources including resource of China, C.I.F. European plate prices continue to fall, nearly two weeks, the price has fallen about 40 euros/ton. The European steel mills are urged European governments and relevant organizations to plate in the anti-dumping investigation in China. At present, the Nordic S275 in thick plate factory base is 350-360 euros/ton, the ex-factory price in southern Europe S275 medium plate is 330-340 euros/ton, thick plate export in China was quoted at 260-280 euros/ton (CIF, Italy).
Related posts