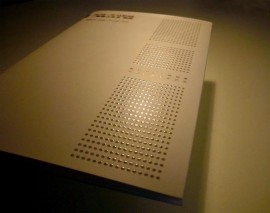 The main process for three-dimensional printing process tinplate: Original production → color separation, plate making → ​​printing → ​​grating film paste synthetic.
1. Original Production
Originals can produce three-dimensional photographic method, which is the most traditional of the original three-dimensional printing production methods, its operating key is to shoot three-dimensional picture, you need to shoot before shooting to layout objects, distance, angle, center point for accurate calculations. To obtain a stereoscopic image are generally both direct and indirect method, the direct method is carried out by the cylindrical camera grating at a certain moving the camera field of view will be continuously filmed subject; indirect rule is a specific location (5 to 8 Machine bit) corresponding number of photos taken, and then they accurately together as one. Compared to the indirect method, although better than the direct method of three-dimensional effect, but more cumbersome, generally not used.
Thanks to the development of computer software technology, and now three-dimensional image acquisition and simple way a lot, you can use specialized software stereoscopic images directly to a flat image slicing, transformed into three-dimensional images, such as 3D4U software, or printing using graphic images software enhancements developed 3D software, may also existing ordinary image processing software, such as Photoshop and so on.

2. color separation, plate making
Platemaking line screen printing stereoscopic images must be at least 120 lines / cm. Screen angle three-dimensional printing and general printing of different color, and blue, the black version to use the same screen angle. In addition, three-dimensional printing different pitch should have a different yellow, magenta, cyan, black version of the network cable combination angle in order to avoid interference fringe. Since the original is composed of a three-dimensional pixel composed of closely spaced, the plate making, printing even after the composite cylinder-shaped grating film, so the choice screen angle, in addition to avoiding the formation of moire between different color version, but also Note edition colored pixel line angle, cylinder plate line is forming moire. Such as three-dimensional printing should not choose 0 °, horizontal cable because the most obvious, and 0 ° and pixel lines, columns quadrature mirror plate line, interferes with the clarity and depth of feeling of the image.
Since the three-dimensional printed piece is ultimately a composite grating, and the grating with a certain piece mostly gray, because of the use of three-dimensional printing is a very fine line of high-net, in the sun to copy only 8.5% or 90% of outlets, otherwise easy printing paste version, so you need to increase the amount of color darkened areas to reach 9 to 9.5 into the network effect. Even in a small format sun, high temperatures due to the exposure light source can cause film shrinkage, resulting amplitude pitch before and after impact printing accuracy, so the whole film separations were made ​​even the most ideal proofing. Moreover, Shaizhi plate level of expression should be used better PS version.

3. dimensional printing tinplate
Three-dimensional printing printing methods chosen to ensure no loss due to three-dimensional printing, overlay accuracy is good, and suitable for a large number of printing. Since the offset printing plate, overlay accuracy, anti-Indian forces are better, better three-dimensional printing, process stability, and mass production, so three-dimensional printing tinplate generally use offset printing process.
Generally available in small tin coated white printed tinplate three-dimensional printing, usually require small white can be as good as possible leveling, no bubbles, impurities and other bad points, and the whiteness of white can be small as possible white (on like the printing paper commonly used in high-quality coated paper printing). Due to the special nature of three-dimensional printing, solid density than the ordinary three-dimensional printing four-color printing to high, generally recommended tinplate printing density value: Y (1 ~ 1.1), M (1.4 ~ 1.5), C (1.5 ~ 1.6), the three-dimensional printing tinplate solid density value is generally recommended for: Y (1.3 ~ 1.4), M (1.7 ~ 1.8), C2.0. If the tri-color ink trapping close to neutral gray, to reduce errors caused by 4th overprint, you no longer have to print the black version; If you must use a four-color printing, you can take the black version with the blue version of the same angle flexibility .
In the tinplate three-dimensional printing, prohibit ghosting (ghosting due to either walk or ghosting bit generate other causes), if ghosting, after grating film refraction causes severe image distortion, or even should not be hidden image is hidden, or the display of the image can not be displayed, you can not produce a series of three-dimensional effect ills.
The quality of tinplate printing, three-dimensional images of the final visual effect has a significant impact. Because focus and hinder grating requires a clear line of tinplate printing network, overlay accuracy, chromatic error must not exceed 0.02mm, and require ink clean, do not fade. Tinplate printing should use high-precision three-dimensional color or multi-color printing machine iron printing, the rules must be strictly coincide line and workshop to have constant temperature and humidity conditions.

4. grating film paste synthetic
Grating film materials are hard plastic and soft plastic lenticular sheet lenticular sheet categories. Hard plastic lenticular sheet is the use of polystyrene materials made ​​by injection molding shaped convex cylindrical lens grating film, polystyrene colorless transparent (transparency up to 88% ~ 92%), a refractive index of 1.59 to 1.6, no ductility , flammable, so spray cans can not be used at high temperature welding molding, beverage cans. Soft plastic lenticular sheet used mainly PVC film base through the metal grating drum or grating plate repression, PVC is vinyl chloride by polymerization of polymers, difficult to burn, can be used for a variety of Indian iron products.
In addition, the grating sheet attached synthetic process also need to use adhesive. The role of the adhesive is to raster printing sheet can be securely affixed together, followed by the protection of the ink layer can also be no color at high temperatures. Raster piece raster lines and prints raster lines must be precisely aligned, in order to show the three-dimensional effect. Because of tinplate very sharp, so you must pay attention to safety when the composite.
Because of the special effects three-dimensional printing, which has a huge market prospects in the country, coupled with three-dimensional printing prepress (software) and printing techniques and general printing almost the same, some ordinary printing companies have it as a new investment projects in order to increase corporate profits. In contrast, three-dimensional printing makes it easier than ordinary printing companies make a profit, especially in the current three-dimensional printing technology in the field of tinplate printing also is in blank, the development of three-dimensional printing technology can not only increase profits tinplate printing enterprises, You can also enable enterprises to gain a leading position in this field, and enhance the competitiveness of enterprises.
Related posts