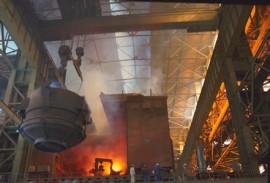 High strength automobile steel can be divided into three generation: the first generation represented by TRIP steel, represented by TWIP steel of the second generation, represented by Q&P steel of the third generation of steel. Identity in addition to meet the conventional properties such as strength, plasticity index, and some character index requirements: such as TRIP steel demands of ultra-high strength, TWIP steel high delayed fracture and high yield strength and Q&P steel requirements high expanding, etc. These are related to performance and its composition system and the annealing process.
Each generation of steel components of the system and annealing process is:
1, the TRIP steel
TRIP steel is containing ferrite, bainite and metastable austenite of low carbon low alloy steel, its basic principle is to use the metastable austenite deformation induced phase transformation, and transformation induced plasticity strong plastic product features to improve the steel plate. Commonly used production TRIP steel components of the system is 0.20% – 1.5% Si – 1.5% Mn series C, 0.20% C – 0.30% Mn Si – 1.8% – 1.8% Al (low silicon) series, 0.20% Mn Si C – 0.30% – 0.30% – 0.06% P (low silicon) series.
Annealing process of TRIP steel mainly including heating, dual phase heat preservation, slow cooling, fast cooling and bainite isothermal transformation six stages, among them, the slow cooling and bainite isothermal transformation process is the most crucial, these two process can control the carbon content of austenite, improve the stability of austenite.
2, TWIP steel
The second generation of TWIP steel with high strength, high plasticity and high impact can absorb the excellent performance, etc. TWIP steel original steel components of the system is 25% Fe – Mn Si Al – 3% – 3%. Developed by the composition of the system are: 18% Mn Fe – 18% – Al – 0.6% – C Mn, Fe – 18% – 0.8% – 0.26% V C, etc.
TWIP steel usually adopts the water toughening process production, continuous annealing line should be equipped with water quenching device. Fast cooling speed can control the carbide precipitation and metastable austenitic grain size grew up.
3, the Q&P steel
The third generation of Q&P steel components of the system for C – Si – Mn or C – Si – Mn – Nb, adopting quenching partition process. Quenching partition technology is steel after austenitizing rapid quenching to martensitic transformation start temperature (Ms) and the end of the martensitic transformation temperature (Mf) between a TQ, then under the temperature or to Ms point above a certain temperature Tp insulation, carbon from supersaturated martensite distribution to not break down in austenite, the remains of a carbon-rich austenite during subsequent cooling to room temperature stability.
TQ through the quenching temperature and distribution temperature of Tp and Tp partition time control, with rich C for metastable multiphase organization comprised of austenitic and martensitic, with high strength and good plasticity.
Related posts