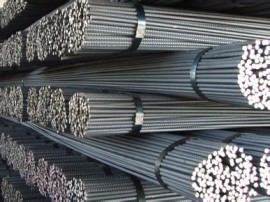 According to China's export figures, in 2014 China's total exports to the eu 465 tons of rebar, the amounts involved for $290000. Is the number of the anti-dumping investigation is not much, amount is small, the other is the European Union is not rebar products are mainly exported to China, so the overall impact is small.
But I steel net, an analyst at xiao-peng li pointed out that, due to the different export tariff regulations differences between China and the European Union statistics caliber. Most of China's export rebar with rod tariff number, and this part of the eu import bar is rebar tariff lines, so the eu anti-dumping to China's actual effect will be bigger. It expects the antidumping investigation involving exports about 500000 tons, the amounts involved for $300 million.
Worth mentioning is that in recent years, the domestic steel industry suffered more and more frequent trade friction. Public data show that since last year, Malaysia, Indonesia, India, Canada, Turkey and other countries to China's iron and steel products like anti-dumping, countervailing measures, its products include hot-rolled, plate, cold rolled stainless steel, etc.
China's trade remedy information network news, April 28, Malaysia to originating in China, Finland, Indonesia, South Korea and Vietnam initiated an anti-dumping investigation against cold rolled stainless steel plate; Recently, foreign media have said, the eu plan from may to come from the orientation of the five countries such as China silicon steel sheet to impose temporary anti-dumping duties for half a year.
Worth mentioning is that boron steel export tax rebate policy to cancel on the impact of China's steel exports has began to emerge.
According to the export policy, China's export of special alloy steel products can enjoy preferential policies of tax cuts, the corresponding among them, the boron content of 0.0008% or more by alloy steel products can declare, can enjoy export tax rebate policy. In recent years, some export enterprises in PuGang adding boron element, transformed into alloy steel products export, and thus enjoy export tax rebates, especially under the background of overcapacity in the domestic steel market, to export "boron steel" way to become the industry rules, which led to the southeast Asia steel mills.
On December 31 last year, the ministry of finance and the state administration of taxation jointly issued notice, announced that since January 1, 2015, adjust some products export tax rebates, which clearly put forward to cancel the boron steel export tax rebate.
After boron steel export tax rebate policy to cancel, in the first quarter of China's steel exports. , according to data from January to march, China's steel exports 25.78 million tons, up 40.7% from a year earlier. The personage inside course of study thinks, starting in February, the influence of boron steel export tax rebate policy to cancel began to emerge, China's steel exports during the month of 7.813 million tons, fell 24.2%, among them, the boron steel exports of 998000 tons, down 68% month-on-month. Steel exports rose in March to continue to fall to 7.7 million tons, the lowest level in almost nine months.
The China iron and steel association, points out that at the beginning of 2015 countries cancelled the export tax rebate of some steel variety, month by month steel year-on-year exports fell in the first quarter, year-on-year growth is on the high side mainly because of lower base in the first quarter of last year, as cancel the tax rebate policy effect, and the international market of our country iron and steel products of double inverse cases an increase in trade disputes, and steel export growth will decline.
Related posts