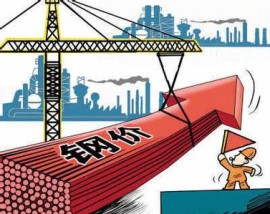 Monitoring according to the ministry of commerce, last week (December 15 to 21) 36 large and medium cities in China edible agricultural products market prices rose slightly, circulation of production prices continue to fall. Steel prices fell by 0.6%, the high speed wire rod and rebar prices fell by 1% and 1% respectively.
Myspic composite index continues the callback, last week at 107.73, compared with the previous week, fell 0.89%. Spot market prices continue to decline in weak, including building materials price drop more, hot rolling, medium thickness plate price is weak.
European economic data is slightly warm last week, the euro zone in December PMI initial value is 50.8, higher than expected value before 50.5 and 50.5, record five months; Services PMI initial value is 51.9, better than expected value and the value of 51.5; Composite PMI initial value is 51.7, better than expected value and the value of 51.5, two data genesis 2 months. In November the eurozone CPI rose just 0.3% in value at an annual rate, eventually low inflation back down to five years. The U.S. economy continues to improve, the PPI in November month rate was down 0.2%, is expected to decline 0.1%, reflects a sharp drop in energy costs and other commodity price pressures are less. The United States in December at the university of Michigan consumer confidence index rose to 93.8, the record since January 2007, thanks to the United States to improve employment and wage prospects, and the gasoline prices fell. 11 Chinese rose after the CPI monthly rate fell by 0.3%, its biggest drop in nearly six years, because of gasoline prices, but it may do little to change the federal reserve (FED) will start raising interest rates expected in mid – 2015. As crude oil prices falling and the rouble rise against the dollar surged to $66.22 / roubles, exchange rate lowest, since a record Russia's central bank cut its forecast.
Domestic: November power consumption increased by 3.3%, compared to the whole society though the rebound, but still weak. November all financial institutions in foreign exchange an increase of 2.2 billion yuan RMB, the third consecutive month of growth. HSBC China manufacturing PMI data in December initial value is 49.5, 49.8, a new low seven months, and for seven months for the first time below 50 vicissitudes of the line. Last week the central bank open market zero, has been suspended for the seventh time. At the spot exchange rate at 6.2163 yuan against the dollar, the depreciation 188 basis points, closing low in nearly five months.
In early December 1.749 million tons of crude steel output in key enterprises, the increment of 36000 tons. Decline in market prices of raw materials for the spot market remain under pressure, and part of the market the arrival of new resources, alleviate the tight resources situation, driving spot prices decline, merchants to afternoon mentality is also very pessimistic, mainly to shipment. Overall, unlikely to rebound in demand, steel prices this week is expected to continue weak as a whole.
Related posts