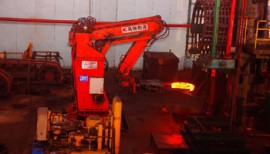 According to people familiar with the matter to the futures daily reporter revealed that the shanxi JiaoXie meeting on November 5, suggested an increase in the price of coke November coking enterprises. In addition, the proposed coke enterprises to guard against capital risk, change the method of payment, reduce cod ratio, increase the advance payment.
"As far as I know, the meeting in the afternoon there is no mention of coke increases, but the dinner between the focal companies are Suggestions raised 50 yuan/ton." Analysts said the increase in the price of small steel mills to accept, but a bit suspended 50 yuan/ton. In addition, the steel mills funds more nervous, is unlikely to make more advance payment.
According to reporter understanding, in early November coke market demand for domestic atmosphere is still good, steel mills receiving more positive, too. Affected by the APEC meeting, tangshan and coke enterprises have to leak phenomenon appeared in handan area. According to zhuo gen information investigation, at present tangshan and coke enterprises in handan area have their strength in the thirty percent more. In addition, langfang, baoding, tangshan city, will limit line of 30% of the motor vehicle, this or a certain influence on the formation coke transport.
Analysts, due to the coke limit production enterprises, the tangshan region situation has affected a few mills the arrival of the goods, inventory down to about 4 days. But most of the other steel mills had already inventory levels, a small current production situation is normal, the coke market did not appear supply tight situation obviously. "Afternoon parts inventory is low steel mills or will accept coke price increase, the other steel mills may continue watching."
A steel mills people declined to be named, told reporters that as of Thursday, steel mills and there are no big range limit production, coke demand remains stable. Reporter noticed, however, affected by the environmental protection, shandong zibo area have more strict limit production measures. Shandong zibo area of coke prices since November 3 limit production to forty percent, continuing until the end of the APEC meeting, is expected to affect local coke supply 5000 tons/day. Moreover, supervised by the ministry in anyang city henan province, the local focal companies recently widely distributed three to fifty percent, or will affect local coke supply 8000 tons/day, surrounding areas affected by a certain steel mill the arrival of the goods.
Recently in shanxi coke market as a whole is given priority to with consolidation, only sporadic fluctuated. Shanxi coking coal prices in October backed by demand, rising 20-30 yuan/ton. In original point of view, the recent coking byproduct (coarse benzene, tar, ammonium sulfate) prices all the way down, part of the focal company's profits have disappointed, therefore increase the mood.
Parts in thermal coal, driven by rising coking coal prices have also been raised. "Weak, rising raw material prices rise, and the by-product price continued to fall, coke should rise in price." Hebei a focal company sales person said. Kailuan group company sales staff luo told reporters that the current domestic coking coal market remains generally stable, individual regions due to their influence, slightly ease the contradiction between supply and demand, price increases slightly. "According to our statistics, north China, northeast China six key areas in coking coal inventory a total of 1.36 million tons of iron and steel enterprise, relatively early slightly increase of 10000 tons, the average number of days available unchanged 18 days."
"Affected by the cost of support, and in the context of their own profit margins shrink, test the coke prices or will reduce the pressure on the current production." Said a coke enterprises in shandong district. Analysts believe that due to a series of factors, such as coke enterprises have their late coke in hebei area still exists the possibility of tight supply. Steel tension to ease, however, had winter late strength should be limited. "Given the steel mill acceptance is limited, the coke up space or in 20 to 30 yuan/ton."
Related posts