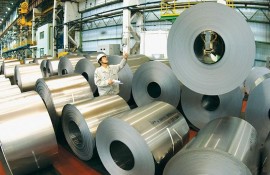 Looking ahead to 2015 Chinese steel market situation, while crude steel demand growth slowed, but because base contrast enhancement, its size is still huge, will leap 900 million tons, exports (direct and indirect export) of not less than 200 million tons. In demand and gained market share competition, under the dual role of the national actual crude steel production increase. Expects 2015 iron ore prices continue to fall this year, the new steel prices up space, then the demand effect appeared gradually, promote the market bottomed out.
Firstly, demand is still huge body
Since a period, the Chinese economy into the shifting period, namely from rapid growth to the rapid growth. Expect gross domestic product (GDP) in 2014 year-on-year growth of 7.4%, in 2015 economic growth will fall further, also may be close to 7%. If growth back to 7%, it shows that China's economic growth is shifting for a couple of years was basically completed, the economic growth of retreat also will be a quarter hit bottom in 2015 years, and then turned to rebound, which would boost steel demand.
It must be noted that, although China's economic growth is slowing, but because of the constant improvement of the base of comparison, the size of its size is still huge. In 2013, for example, China's economic growth slowed to 7.7%, but only its increment is equivalent to, or far more than 10 years ago (1994) 1 year's economy. Similarly, although China's steel demand growth by double-digit fall to about 5%, but the absolute number is still amazing, each 1% increase, now means increased 9 million tons of crude steel demand, the equivalent of about 10% in the early 1990 s level of growth.
In October this year China's macroeconomic data is not very ideal, "troika" all slowed. The year-on-year growth in industrial output fell below 8% again, 1 – October, the national investment in fixed assets  excluding farmers growth below 16%, according to four quarter economic growth is difficult to rebound, complete 7.5% full-year growth target difficulty is very big, but also reflect the market in 2015, the economic outlook is not optimistic. Given that the main reason for the slowdown is fixed asset investment, especially real estate investment growth will fall too fast, so the 2014 years since the second half of the decision-making departments significantly accelerated the directional stimulus, including intensive reply infrastructure construction projects, a number of measures to stabilize the housing consumption, as well as the monetary policy loose and so on. Strengthen the basic construction become a steady growth of the main points of less than a month in a short period of time, the national development and reform commission (NDRC) is continuous reply 21 railways, airports and other infrastructure projects, investment of nearly 700 billion yuan. Combined with previous approved projects, by the end of the year all 46 railway construction project construction; This year there are 172 major water conservancy project construction, investment will exceed 600 billion yuan. In addition, the urban underground pipeline, rail transportation, construction of sewage treatment and so on are also enhanced, the investment in the future also is expected to be sweetened, push the high levels of investment in a year.
Comparison base constantly improve the level of, and investment slowdown hit bottom rebound, will make a New Year China's crude steel demand volume size. Preliminary estimates, in 2015 China's crude steel actual demand quantity (including direct export production, and did not include the same below) will leap in 900 million tons, male, according to global demand for about half the country side.
Secondly, the total crude steel exports (reduced) steel 200 million tons
"New normal" of China's economy, the optimization of economic structure, is an important performance optimization of export products, by the previous low technology content, low metal content of textile products, gradually into a high technology content, high metal content of mechanical and electronic products. According to relevant data, in 1978 China's exports of mechanical and electronic products account for only 6.8% of the total amount of export, mechanical and electrical products export proportion to rise to 17.9% in 1990. By 2013, China's exports of mechanical and electronic products has reached $1.26 trillion, occupying 57% of the total export proportion, five consecutive years to keep the world's largest exporter of mechanical and electronic products. Exports of mechanical and electrical products and metal content is higher, means a lot of indirect export steel.
With from the point of development trend, technology innovation has become the national economic development strategy, government entities at all levels actively support, inexpensive strong competition ability, and strong demand in many countries, with China's independent intellectual property rights in the future high-tech mechanical and electrical products, such as high-speed rail, nuclear power, complete sets of machinery and equipment, electronic information products export, there will be a leap. In 2013, the Chinese government proposed to construct economic belt "silk road" and "Marine silk road" in the 21st century's initiative, namely "area" economy development strategic thought, with China's neighbors of railways, highways, ports and other infrastructure projects will give priority to deployment, and support in the aspect of construction funds. All of these will become a powerful force driving the Chinese exports of mechanical and electronic products in the future.
With the rising number of mechanical and electrical products exports, it will also increasing steel indirect exports. According to the Chinese mechanical and electrical products export $2014 in 1.3 trillion, assuming that 5%, or $70 billion for the steel purchasing, convert the indirect export quantity of steel  2014 years ago in the third quarter average export price tons of $783 to nearly 90 million tons. Mechanical and electrical products exports continue to grow in China in 2015, in order to increase the export of China's steel indirectly further increased, reduced crude steel will reach 100 million tons.
On the other hand, due to the comparative advantage of China's steel production capacity, price advantage, advantage of continue to exist and exist for a long time, China's steel exports will also directly keep a huge number of scale. According to customs statistics, 1-2014 cumulative in October, the national steel exports of 73.89 million tons, up 42.2% from a year earlier, expected the direct exports of 90 million tons of steel, steel exports in 2015 will exceed 90 million tons, reduced crude steel is about 100 million tons. The direct and indirect export two together, in 2015 China's crude steel (reduced) steel exports of 200 million tons.
Thirdly, the crude steel production increase
Since this year the Chinese steel companies have been at full production. According to statistics, the first nine months of 2014 national crude steel output of 618 million tons, up 2.3% from a year earlier. Steel output was 8.38533 billion tons, an increase of 5.0%. Is expected to include the year's crude steel output of 820 million tons, the actual crude steel output production (including did not include part) will be around 880 million tons.
Due to the large capacity and economic growth is slowing, supply will continue to be in 2015, China's steel market advocate tone. Excess supply requirements backward enterprises out of heavy pressure, will inevitably force doing everything they can to increase production, iron and steel enterprise to grab market share, clean up the competition. Employment and tax revenue, on the other hand, the pressure, also makes the local governments to support a variety of iron and steel enterprise production within their respective jurisdictions. Affected by the New Year continued to grow, China's crude steel production is expected to include the year's crude steel output will reach 850 million tons, growth at around 3%. If production and did not include part, in 2015 China's real crude steel output will reach 900 million tons, occupying the proportion of global crude steel production to rise further.
Fourthly, iron ore prices will fall
Overall, in 2015 iron ore prices will continue to fall, this is a big probability event. Tons of imported iron ore landed price at around $70, in the worst case could reach $60.
A new iron ore prices continue to fall this year, is a major factor increases production, the world's mining giants and depreciate sales promotion strategy. Since this year the world mining giants have been actively expand production. Rio tinto iron ore output in the third quarter of 60.45 million tons, vale output of 85.73 million tons, fresh record highs, estimated in 2015 years the world's mining giants will continue to increase.
Due to current world mining giant iron ore cost is far lower than the sales price, in order to achieve the smooth flow of sales, increase production by certainly will again offer a price cut in, in order to use the high cost of iron ore sales, which maximum inhibition on the formation of domestic iron ore prices. The mountain is not moved, the price of iron ore is difficult to pick up.
On the other hand, despite the world mining giant strong price pressure, part of the domestic mining enterprises loss and began to cut production, but many domestic mining remains profitable, only profits fell. According to relevant data, in the first half of 2014 ten listed mining companies in the domestic, nine big mining companies are still in the high profit by smooth operation, including constant mining  its business of mine is located in hebei Lai source region is doing 59% ros. Domestic mining still overall profit, also decided to the world's mining giants must continue to depreciate, until the high cost can't afford to exit the market capacity. A high-cost mines die, mining giant price behavior.
Imports of iron ore prices down the steps again, certainly will stimulate China's iron ore imports increased sharply. If China's iron ore imports in 2015 landed price at around $80 a tonne, annual iron ore imports more than 1 billion tons, 10% growth again; If China's iron ore imports in 2015 landed price fell to $70 a tonne, annual iron ore imports are likely to reach or close to 1.2 billion tons, about 3 into growth.
Lastly, steel prices fell after bottoming out
Iron ore prices continue to fall, provides new space for steel prices fell. Under the oppression and is expected to 2015 years ago, a few months steel prices will likely continue to dip. On the other hand, as the steel prices down further, its stimulating effect on demand will also gradually revealed. This is mainly embodied in the same currency can buy more steel, thus completed by 2015 of investment in fixed assets, means that the larger scale of steel consumption. Not only that, such as steel, iron ore, coke prices continue to fall, after reaching a tipping point, will cause the market inventory and bottom behavior, strengthen the demand stimulus effect. Sometimes, the effect is also very strong enough to lift the short-term market, investors and traders off-guard. At the same time, prices continue to fall, to severe losses, many enterprises will lead to supply. So far, as the industry as a whole are now profitable, market prices fall has not caused total production decline, but the situation won't continue. In steel and iron ore prices continue to fall, really heavy losses related industries, is bound to have some companies are unsustainable. First is the high cost of ore exit the market, and then extend to cut steel sector. Affected by the smelting steel and iron ore and other raw materials, after the price down over may be bottoming out in 2015 years.
Related posts