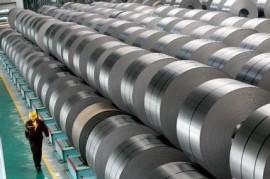 April steel exports year-on-year growth, is expected to remain high, according to the general administration of customs may, according to the latest figures, China's steel exports of 8.54 million tons in April 2015, is an increase of 843300 tons last month, rose 10.96%, year-on-year growth of 13.21% in April in China imported 1.2 million tons of steel, fell 08100 tons, the month fell 0.67%, down 8.04% year-on-year exports in April the new orders index fell 4.1% month-on-month to 40, so may steel exports year-on-year growth is expected to slow.
Boron steel export tax rebate policy cancelled after boron steel exports accounted for continues to decline, but as the adjustment of domestic steel mills, is expected to develop new type of alloy steel in order to continue to obtain export tax rebates, expected exports is expected to remain high.
Analysts pointed out that "with" the steel industry crude steel production in the first quarter for three consecutive months of negative growth, and decline, environmental policy and high pressure, industry transformation needs urgent, iron and steel industry to rhythm of capacity significantly exceed market expectations. In may, domestic demand will continue to improve, steel exports jumped by 41% year-on-year in the first quarter, steel supply and demand situation will continue to improve, month-on-month industry profits from will be improved significantly.
Related posts