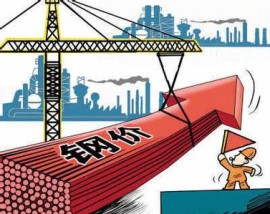 Under the background of exhaustion of export as a whole, China's steel products continue to expand sales abroad. The general administration of customs on the weekend, according to the data published in July 2015 China's exports of steel 9.73 million tons, from the previous month an increase of 840000 tons, up 20.7%; July 1 – China's exports of steel 62.13 million tons, up 26.6% year-on-year.
The July data for this year's steel exports increase trend. Steel association, according to the data in the first half of China's exports of steel 52.4 million tons, up 27.8% from a year earlier.
As of the last trading day (August 7), Lange steel composite price index reached 90.7 points, 2.3 points higher than last week.
Steel exports outshine others export situation in contrast with other products. In July, China's exports of 1.19 trillion yuan, down 8.9%. The clothing exports fell by 6.4%; Textiles fell by 1.7%; A 1.9% drop in footwear.
Domestic iron and steel industry in China under the background of serious excess capacity, in the overseas market for help temporarily reduce the difficulty in iron and steel enterprise. But cisa, executive vice President of Mr Zhu also pointed out that after the data release, keep such steel exports to alleviate the contradiction between supply and demand of domestic market, but now China's steel export facing great pressure in terms of trade friction.
Related posts