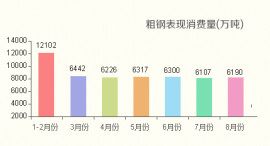 On the one hand, overcapacity in the domestic market, dead; On the other hand, the international market is fruitful. According to the general administration of customs statistics, this year October 1 – China's exports of steel 73.89 million tons, up 42.2% from a year earlier, a number that has more than 62.34 million tons for all of last year's total exports.
Surging exports at the same time, the policy level as well as steel opened the door of "going out". At just end of the APEC meeting, China put forward Suggestions on building the "area", followed by China and South Korea, china-australia free trade in succession fall. In the future, there are rumors that China will also open to foreign capital iron and steel, oil refining, etc. Lange steel research center director guo-qing wang to the huaxia times reporter said, this will help to digest the steel industry overcapacity.
The international market gradually opening, foreign counterparts "Wolf"… Steel mills of the living environment is undergoing subtle changes, a battle of internationalization has quietly.
A surge in exports
On November 20th, hebei iron and steel group [1.53% of funding research to] tanggang company (hereinafter referred to as the "tangshan") three galvanizing production line of cold rolled galvanized belt workshop, the workers are on processed steel plates for final packaging. Soon, the part of the plate will travel, sold far away in the Middle East, South America and southeast Asia.
Vice general manager in charge of the export of tanggang Li Yidong told our reporter, in the first three quarters of this year, tanggang output reached 3.056 million tons, more than 37.5% year-on-year growth, with annual export volume has been largely unchanged in 2013.
Not only is the tangshan, since this year, the rapid growth of China's steel exports, record highs on exports. Cisa information industry conference in the third quarter forecast, annual steel exports exceed 80 million tons is a foregone conclusion.
Hebei iron and steel group international trade company tangshan branch with the export department minister han zheng said, among the export destination, South America, southeast Asia, two of the fastest growing business, such as southeast Asia countries such as Laos, Cambodia, Burma, infrastructure is relatively backward, steel demand is big, the price also is stable, has become China's steel exports of an emerging market.
Price, zhuo information steel analyst liu xinwei to our reporter said that China's steel is cheaper than Europe and the United States similar products, combined with the iron ore prices this year, making further highlight its price advantage, can cheap $100 – $200 per ton, is quite popular with the international market.
Meanwhile, export prices, in comparison with domestic prices or export prices higher, so the steel mills are also more willing to sell products abroad. Especially like tangshan high value-added products business, Korea to zheng told reporters, according to the tangshan October 1-3.3 million tons of exports, export more than in the domestic sales have sold 200 million yuan.
Increased export has a benefit, is reversed transmission the transformation and upgrading of the structure. Foreign users taller to the requirement of product quality, service system and so on, which in turn will improve enterprise r&d investment, improve service quality, optimize the whole structure.
In Korea to zheng said, at present, exports of tanggang proportion has been close to 30% of total output and profit contribution rate is higher. Next year, tanggang plans to further implement exports of 5 million tons, in his view, "not difficult" to achieve this goal.
Production of "going out"
In addition to sell the products to foreign countries, the iron and steel industry also wants the factory directly open to the outside.
November 13, the state council premier li keqiang attended the 17th china-asean (10 + 1) leaders' meeting, China encourages domestic iron and steel, cement and other advantages such as investment, leasing, lending capacity way transferred to asean countries with infrastructure construction needs, achieve mutual benefit and win-win results.
Announced in September this year, hebei iron and steel group in South Africa to build a production capacity of 5 million tons of iron and steel projects, the project is currently the largest whole process of the construction of Chinese overseas investment steel projects. November 18, hebei iron and steel group will hold the world's largest steel trading and comprehensive service provider – Switzerland highly respected international trade holding company 10% stake to 51%.
Shanghai steel coupon / – 2.71% of funding research to xiang-chun xu director of information analysis, said before we import iron ore from South Africa, to domestic production, and then sold, this cycle of the logistics cost is very high. The local production in South Africa, and then through highly respected global traders such sales, can realize nearby digestion.
In the overseas factories, green barriers will meet? Factories overseas guo-qing wang said, in fact, it is not the domestic equipment from the past, but using the latest technology to rebuild a new factory, so can meet the environmental requirements.
We have learned, in hebei province established the hebei iron and steel, cement, glass and other advantage industry overcapacity offshoring work promoting plan, steel, plan put forward by 2017 to achieve the province's transfer outside the steel production capacity of 5 million tons of goals; By 2023, strive to achieve the province transfer outside the steel production capacity of 20 million tons.
"International" change
In the past, China's policy on steel products is "based on domestic supply, develop bilateral and multilateral trade appropriate". In 2010, then the cisa secretary-general shan shanghua said publicly, up to 70% dependence on imported iron ore in China, how to export steel is to export resources export of raw materials, also is equal to increase domestic pollution, at the same time also can cause some unnecessary antidumping, countervailing trade disputes. Therefore, China's attitude on steel exports have been more prudent, steel exports accounted for only 2% of the total output of 2%.
Today, this attitude is quietly changing. On Oct. 13, spokesman of news of the general administration of customs, integrated zheng yuesheng in the import and export situation is introduced in the first three quarters, said in the first three quarters of China's steel exports of 65.43 million tons, increased by 39.3%, exports has become one of the important channels of dissolve of excess capacity.
More important change is the "interconnectivity" put forward by the state, "area", such as planning, liu xinwei thinks, the overseas investment plan is mainly used for infrastructure construction, resource development, etc., for the digestion of the iron and steel industry overcapacity will no doubt there is a big help. However, as bidders for high-speed blocked in Mexico, the implementation of these plans effect remains to be seen.
Recently, China and South Korea fta negotiations. Guo-qing wang thinks, a move that could impact the domestic iron and steel industry. Because South Korea's posco has technical advantages in high-end steel products, competitive than domestic companies. In addition, there are media reports, the national development and reform commission is the foreign investment industrial guidance catalogue revisions for public opinion, to no longer ban on foreign investment in the iron and steel, oil refining and ethylene production overcapacity, which is to let the iron and steel industry cried "Wolf".
Facing the survival environment changes, xiang-chun xu said the industry reshuffle will be inevitable. Iron and steel enterprises how to cope with the new situation? It seems to Li Yidong internationalization will is one of the way. In the past, a lot of world 500 strong enterprises in China is just "500", is piled into all by output, is not the real meaning of multinational companies. To the big teams, its product market, the source of economic efficiency and the international factors in the structure of talent must possess a certain proportion.
Liu xinwei, also said earlier, the attention of the mills is more focused on resolving excess capacity, realize the transformation and upgrading, etc., and less attention to export enterprises. However, since this year focused on exports of steel mills has been more and more.
In fact, the whole, China's steel export potential is still large. Exports only less than 10% of total domestic steel production, and other steel superpower exports accounted for more than is as high as 30%.
Related posts