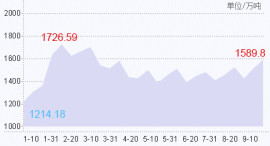 Media reported recently, cisa authorities outside the industry conference, according to the years, the government will cancel the steel export tax rebate policy. While cisa press conference on October 29th are also put forward: "export low value-added products do not accord with our country's current economic development needs, will bring the export policy adjustment". The indications are that the Chinese government will adjust steel export policy. So why, adjust the export policy? How to adjust? After adjusting for export impact? This article will conduct a preliminary analysis and prediction of the above.
Affected by the economic transformation and real estate industry downturn, this year the domestic steel demand is weak, the domestic steel prices down, while foreign drop is relatively small, have tumbled in widening gap and promote the performance of China's steel acceleration to the overseas market. 1 – October national export steel 73.89 million tons, up 42.2% from a year earlier, steel exports for the whole year is expected to reach 89 million tons, more than 2007 record levels (steel and steel billet totaled 66.5 million tons).
This year, according to estimates, steel exports or crude steel accounts for about 11% of production, compared with the world's major steel exporters, although the share is not high, but due to the large base, the absolute value is far ahead, ranked second Japanese exports this year estimated that more than three thousand ten thousand tonnes. China's steel exports or crude steel production with the United States rather than South America, Oceania and Africa's total output is 15 million tons.
It is obvious that China's steel exports will indeed bring certain impact to the international market. International steel association expects this year (excluding China) global steel demand growth of 3%, the increment of 25 million tons, while China's steel export growth will reach 27 million tons this year, that is to say, China's exports of steel products not only meet the world this year (excluding China) all new requirements, but also must be surplus.
China's steel exports already cause dissatisfaction with the foreign steel mills in great quantities, because of China's steel mills not only from the domestic market share, foreign steel mills and foreign steel mills in the overseas market share in the Chinese steel mills to eat slowly. In response, the foreign steel mills continuously put forward to the government for China's steel anti-dumping investigations, by far, foreign new anti-dumping number is 20 this year. Due to foreign anti-dumping has certain hysteresis, China's steel exports this year, next year new anti-dumping number will increase significantly.
It is important to note that in previous years mainly European and American developed countries to investigate China's steel trade protection is put forward, and the last two years, China's steel main export region of Asian countries put forward the fastest growing number of anti-dumping, such as South Korea, one of China's biggest steel exporter, for the first time this year launched anti-dumping investigations against Chinese steel (h-beam), while Thailand launched anti-dumping investigations against China boron hot rolls. Though the foreign anti-dumping on China's steel exports have not substantial impact, but as more and more anti-dumping investigations, equivalent variable qualitative change occurs, the export will be obstructed.
Environmental stress is the inner conditionality factors of steel exports. According to the measure, export 89 million tons of steel, domestic emissions of waste water volume is 65 million cubic meters, exhaust volume is 140 million cubic meters, 70000 tons of sulfur dioxide, dust is 50000 tons. Recently chairman xi jinping in APEC dinner speech, wide coverage of the weather in Beijing is expounded, and expressed the hope that "APEC blue" to continue, this means that the iron and steel industry with high levels of pollution in the future will face more pressure of environmental protection, a large number of low-priced exports unsustainable steel products.
So, rather than passive let foreign anti-dumping, active control steel exports, the export policy adjustment is imminent. How export policy adjustment, cancellation of export tariffs, seems to have certain, because of the development of Chinese iron and steel industry, though not for the purpose of export, but also should moderate participate in international competition in the market, and now China is trying to establish a free trade agreement (FTA) with other countries, keep steel export tariffs have been misplaced.
It is important to note that the main force of boron steel exports, which accounts for nearly half of the volume. In the first nine months of boron steel export growth for 11 million tons, accounting for 60% of the total export growth. Although boron steel for low value-added products, but to enjoy tax refund, does not conform to the domestic steel industry development direction, such as southeast Asia and other countries, was complaining, is understood to have a number of countries with China steel association or organization departments to discuss boron steel exports. Therefore, cancel the boron steel export tax rebate is the focus of policy adjustments.
Policy adjustment of steel exports have much effect, we made two scenarios. First, remove all boron steel export tax rebate; Second, cancel have to list the tariff number of boron steel (material, wire rod, bar, plate, etc.) of the export tax rebate.
For the first adjustment, tax rebates adjustment of steel varieties, about 45% of the total exports (based on exports in the first nine month estimate), tax rebates cancellation after falling steel export prices will lead to exports. While China's steel exports decline and export prices, foreign steel prices will also rise in a certain range, steel export tariffs may also be synchronized to cancel at the same time, therefore, if according to the plan adjustment, estimates that steel exports decline but more than 15%.
For second scheme, the impact of tax change steel varieties more than 30% of the total exports, if according to the plan adjustment, steel exports decline but estimated at more than 10%.
Scheme 2 the maneuverability is strong, the possibility of a more than one way, influence of varieties are mainly of rebar, wire rod and plate. For other steel products, a tentative retention drawback, slowly arriving late is expected to cancel.
Conclusion: comprehensive analysis, steel export policy adjustment is inevitable, once the policy, steel export growth next year will come to an abrupt end, export quantity may fall below 80 million tons, in one of the rebar, wire rod, plate and other varieties had borne the brunt of the domestic market is facing greater pressure.
Related posts