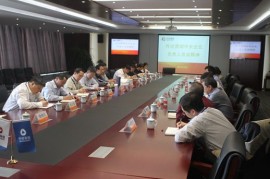 On November 28th, the Chinese iron and steel industry association metallurgical equipment branch (hereinafter referred to as the metallurgical equipment branch) founding conference was held in shijiazhuang city, hebei province.
The China iron and steel association, vice President and secretary general Mr Zhang said at the meeting: "metallurgical equipment branch arises at the historic moment, it is everybody's common wish, is to strengthen the steel equipment spare parts the coordinated development of the whole industry chain enterprises, promote the overall level of China's iron and steel equipment to improve, to support and serve the industry transformation and upgrading, to achieve the power of the iron and steel industry the dream to lay a solid foundation."
Metallurgical equipment branch is in the original China steel industry association was established based on metallurgical equipment working committee. In response, Mr Zhang said: "our metallurgical equipment working committee into metallurgical equipment branch, is not a simple name, rather than from the work on the connotation of ascension, from strengthening equipment management modernization."
Meeting to vote passed an ordinance metallurgical equipment branch, as well as the related leader. Mr Zhang served as honorary President of metallurgical equipment branch, hebei iron and steel group chairman, party secretary yu yong as a branch of metallurgy equipment, steel association, director of market research department Wang Yingsheng as metallurgical equipment branch secretary general.
's new President yu yong metallurgical equipment branch of the next step of work puts forward several opinions: first, to give full play to contact enterprise and the government of Bridges, surrounding the industry developing strategic, forward-looking, integrated major issues, organize and conduct research, to make the implementation of industry planning, industrial policy, industry standards, to provide strong support and decision-making basis. Second, to consummate the membership service function, positive innovation to meet the actual needs of service mode, take the initiative to provide members with relevant industrial policies, metallurgy, the development of new and high technology and equipment design, equipment operation management maintenance consulting services. Third, we should actively undertake government commissioned work tasks, important gripper for energy conservation and emission reduction, scientific and technological progress as the main power, assisting the government to foster professional market, to carry out the national revitalization of equipment manufacturing industry planning requirements, explore the establishment and development of significant metallurgical equipment manufacturing base, and improve the industry self-discipline mechanism, supervise and urge enterprises to fulfill social responsibility. Fourth, to strengthen domestic and international exchanges and cooperation, the introduction of advanced equipment to promote positive development of technology and equipment management ideas and methods. Fifth, to strengthen the construction of society itself, constantly improve various rules and regulations, enrich your expertise, standardize management of the association, improve service level, promote the sustainable development of society.
Related posts