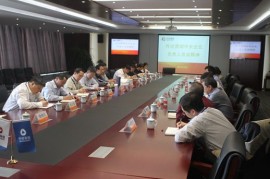 March 28

,

held in Beijing

SASAC

meeting of heads of

central enterprises

,

convey and implement the

General Secretary

Xi Jinping

,

Li Keqiang,

Prime Minister

and other central leaders

of

important instructions,

speech

and central

relevant documents

, and further

arrangements for

2014

central enterprise

reform and development

tasks

.

SASAC director

,

party secretary

Zhang Yi

presided over the

meeting and delivered

a speech

,

SAC

leadership

Huang and

,

Zhang Xiwu

,

Huang Danhua

,

Xu Fushun

,

Jinyang

,

Meng Jianmin

, strong

Weidong

,

Wang Wenbin

, Du

Yuan Quan

attended the meeting.

Group chairman

, party

secretary Chen

Esheng

,

general manager

,

deputy party secretary

Yu

starfish

attended the meeting.
April 1
, the company
held a meeting
quickly
convey and implement the
spirit of the people
in charge of
the central
business
meetings
.
Starfish
Group General Manager
Yu
presided over
the meeting and delivered
a speech
, the company
leadership team members
,
the headquarters
of the department heads
,
in Beijing
two
enterprises are mainly
attended the
meeting.
The meeting conveyed the General Secretary Xi Jinping and other central leaders of important instructions to convey an important speech SASAC director, party secretary Zhang Yi's. It was agreed that General Secretary Xi Jinping and other central leaders of important instructions for reform and development of the central business and anti-corruption forth explicit requirements, fully embodies the CPC Central Committee and State Council on the reform and development of state-owned SOEs attention and high expectations, is to our great inspiration and encouragement, the company and affiliated companies should thoroughly study and deeply understand, earnestly implement consciously thinking and action with the central policies and arrangements. Accordance with the requirements of the State Council, the SASAC, earnestly implement the reform tasks to further enhance the overall sense of responsibility, sense of urgency, to achieve capital growth target this year.
Yu, general manager of Starfish combined group would study and implement the spirit of the meeting actually put a four-point requirements. First, we must take effective measures to carry out production and operation, to ensure the production and operation objectives for the completion of the annual production and management tasks a good start, a good start. The second is to further optimize the allocation of resources, quality and efficiency, reduce business risk, cut costs, cost efficiency and to take measures to clean up the accounts receivable, inventory engineering Loaning money and solve larger problems, resource investment and production efficiency the project is no longer a mismatch investment funds possession compression size. Third, to further improve the disposal of inefficient assets invalid, the relevant two enterprises should take the responsibility, and strengthen executive power. Fourth, to further promote the Group's second batch of educational practice, and effectively in accordance with the requirements of the central solve their own "four winds" issue, promote correct style of leading cadres further enhance and provide a strong guarantee for the scientific development of the company.
Related posts